Nursing bras are not created equal. They come in all sorts of styles, fabrics and shapes. Some are more supportive while others look cuter. Some serve up heavenly comfort. The style you choose will depend on your personal preference and lifestyle.
Making a decision on the right nursing bra for you can be overwhelming with all the choices out there. But a functional and comfortable nursing bra is an essential in any nursing mom's wardrobe.
This guide runs you through everything you need to know when navigating the confusing world of nursing bras.
Let's dive right in.
What is a nursing bra anyway?
A basic but vital question so you don't buy the wrong kind of bra. A nursing bra is a convertible BMW in the world of bras. You can 'open the roof' via drop-down cups or pull-aside flaps for easy breastfeeding. It also has luxury (but essential when breastfeeding) features like super-soft flexible fabric, extra knit-in zones, wide under-bust bands, and more hook options.
Nursing bras can have flexi-wires or be wireless but both types will come with extra supportive features to hold up heavier breasts.
Maternity bras vs nursing bras
Is there a difference between maternity and nursing bras? Traditionally maternity bras refer to bras that you buy to wear while pregnant. Maternity bras have no drop-down cups to allow easy breastfeeding. However, many brands now use the terms maternity and nursing interchangeably and most 'maternity bras' now have nursing features too.
No matter what bra you buy, make sure that you can breastfeed easily with it.
Read more about the differences here.
How to choose the right nursing bra: start with your why
Before you even touch your keyboard to google 'best nursing bras', you must first define why you need a nursing bra. This is the single most important question to ask to avoid buying the wrong nursing bra.
There really isn't a one-size-fits-all nursing bra no matter what all the 'best nursing bras' articles say. I'll go through the various phases and activities in a new mom's life and highlight the best nursing bras to choose.
How to choose the right nursing bra to bring to hospital
When you are ticking off your checklist for hospital essentials, nursing bras are up there with maternity pads. No matter how you are delivering – vaginally or through C-section, those first few days post-delivery are painful and exhausting.
When choosing your hospital nursing bra, make sure it is:
Made of the softest, most comfortable fabric possible
My favorite nursing bra material used to be cotton for its softness but I have recently been converted to bamboo and am now officially an advocate. Not only is bamboo sustainable and breathable, the material feels cool on your skin, perfect for sweaty boobs.
Your hospital nursing bra needs to be wireless, not only for comfort, but also to prevent clogged ducts from your engorged breasts. Most wireless nursing bras have wide under-bust bands and strong straps for support and that's enough for hospital use as you won't be doing much other than being a breastfeeding machine.
After my C-section, I couldn't feel my legs for half the night and when the spinal wore off, any movement was painful. Stretching my arms back to hook my bra on was agony. Even if you had a smooth vaginal delivery, I bet you would still be achy and sore for a few days. So look for a nursing bra without back hooks that you can slip over your head like a t-shirt.
Those first few nights in hospital, I never imagined I could survive on so little sleep but survive I did. When you are breastfeeding every 1-2 hours, you need a nursing bra you can just pull aside to breastfeed. Don't go for clip-down cups yet, you'll be too exhausted and dazed to fiddle with clips 10-12 times a day. Choose bras with a simple cross-over design that allows you to slide your breasts out easily for feedings.
Seamless with no tags, hooks or plastic bits to irritate your skin
These might sound like small things but it won't be when your hormones crash on day 3.
These are my recommendations for the best nursing bras to bring with you to hospital:
For cotton enthusiasts, the KB Organic Cotton Nursing Sleep Bra is made of 90% cotton and 10% spandex so you get the softest possible fabric with good stretch. It is wireless with a pull-over design. Plus, it has longer straps to fit comfortably around larger breasts.
Further reading: The best organic nursing bras on Amazon
Cake Maternity is one of my favorite nursing bra brands. Their Bamboo Nursing Sleep Bra is made of cooling bamboo fiber. It is wireless and has a reinforced back panel with racerback design to stop the straps from falling off and your boobs from falling out when you sleep. As with most other nursing sleep bras, simply pull the the flaps aside to breastfeed.
For moms on a budget, the Motherhood Maternity Wrap Front Nursing Sleep Bra gives you good value-for-money. It is made of 95% cotton, 5% spandex for comfort and flexibility. Similar to other sleep bras, it is wireless with a cross-over design.
I go into more detail in the 7 best nursing bras for sleeping like a baby.
Notice that all my recommendations are nursing sleep bras? That's because they can't be beat on comfort and breastfeeding ease. Those first few harrowing days in hospital, these are your biggest priorities.
Your nipples will show through all these nursing bras are they are unpadded for maximum comfort. Most moms don't mind this as they are in hospital but if you are uncomfortable with it, you can use nursing pads to give some nipple protection with the added benefit of catching milk leaks. Alternatively, you can bring a padded nursing bra to hospital (read on to learn how to choose padded nursing bras).
If you're thinking that's a lot of money to spend on a bra you'll only use for a few days, fear not. You can continue wearing your comfy 'hospital bra' to sleep for the rest of your breastfeeding journey and beyond!
How to choose the right nursing bra for new moms (the first 4 weeks)
The first 4-6 weeks of being a new mom is filled with wonder, joy and love. Also emotional ups-and-downs, exhaustion, clogged milk ducts and painful breast engorgements. The last thing you need is a nursing bra you are not completely happy with.
When choosing nursing bras for this phase of your mom-life, make sure they are:
Made of soft, stretchy fabric
Your breasts will be engorged, your nipples tender as all hell… make sure the nursing bra you choose is made of soft fabric that feels good on your skin. It also needs to be stretchy enough to accommodate wild fluctuations in breast size but still offer you adequate support as you go about taking care of bub and the rest of the family. I'm generally a fan of natural fabrics like cotton and bamboo but these fabrics will always need to be combined with a synthetic component like spandex or nylon for it to be flexible enough for the early weeks. Now a days, good quality synthetic fabrics also feel amazing.
If you've been a wired-bra girl or you're worried about sagging breasts, you would be itching to go back to wired bras but hold your horses. In the first 4-8 weeks of breastfeeding, you need wireless nursing bras. You get engorged at the drop of a hat and a wired structured nursing bra will almost certainly block your milk ducts and cause lots of discomfort and pain. If you're not careful, this will lead to mastitis.
I've not used an un-cupped bra since my pre-teenage bralette days but trust me, you'll love that you chose cup-less nursing bras for your early weeks. Squashing your tender, engorged breasts into cups (even without wires) will cause discomfort, pain and clogged ducts. Instead, go for unstructured nursing bras that are seamless and wireless. These bras tend to come in sizes like S, M, L and XL instead of the usual cup sizes and they are designed to stretch with your fluctuating breast size.
Even though they tell you that baby feeds 8-12 times in the first few months, this doesn't really sink in until you're actually doing it. Imaging trying to unclasp your drop-down cups 12 times (sometimes more) a day. Some women just give up and go with sleep bras that you can pull aside easily for feeding. Other women (like me) prefer unstructured seamless nursing bras with drop-down cups with easy clips that I can maneuver with one hand.
If it wasn't for the need of extra support, I would wear a sleep/ hospital nursing bra throughout the first few months (and some women do). However, if you're like most moms, you don't get the luxury of lounging around the whole day. Even after my C-sections, I still did a lot of housework and when I had my second baby, I was chasing after my toddler within the first week. That's where 'new mom nursing bras' come in.  These bras are usually seamless, wireless unstructured nursing bras that have special knit-in zones and thicker under-bust bands to provide moderate support. They are useless for exercising but for running errands and stuffing about at home, they are perfectly adequate.
Some brands recommend handwashing their nursing bras but I have not met a new mom who has had the luxury of time yet. Having said that, most quality nursing bras hold up reasonably well, especially if you cold-wash them in a lingerie bag on a delicate cycle.
In my opinion, these are the best nursing bras for new moms:
The multi-award winner Cotton Candy Nursing Bra is ideal as a first bra for new moms. It is made of good quality 4-way stretch material that accommodates fluctuations in breast size easily. Not only that, the microfibre material provides a cooling effect and soft second-skin feel which is a real God-send when you have tender breasts and nipples. The bra has double layers and structured panels for additional support and is designed for every day (and night) use.
Read my detailed review of the Cotton Candy Nursing Bra.
The Parent Approved Award winner Simply Sublime Nursing Bra is made of ultra-soft stretchy fabric and has cups that mold to your breasts and expands with breast engorgement. The bra also has removable cup paddings to protect against nipple show-through and milk leaks.
The Body Silk Seamless Nursing Bra has adjustable shoulder straps and up to 6 hook and eye options for a customized fit. It's made of 4-way stretch fabric and has removable foam inserts as well to prevent nipple show-through and milk leaks. There are also knit-in zones around the cups for extra lift and support. To top it off, the bra comes in 14 beautiful colors!
Read my review of the Bravado! Designs Body Silk Seamless Nursing Bra for more details.
The Motherhood Maternity Seamless Nursing Bra is one of the best-selling nursing bras on Amazon. It was designed specifically to cater for moms with large breasts with bra sizes up to 46G. Special features include full cups to prevent your boobs from falling out when you bend forwards, wide under-bust band for better back support and removable padding to protect against nipple show-through and milk-leaks.
Read Marie's review of the Motherhood Maternity Seamless Nursing Bra.
* It's worth mentioning that removable cup pads can be great but also annoying. On one hand, they are excellent for when you are out and don't want your nipples poking someone's eyes out. On the other hand, they can get displaced after you fold your bra cups down for breastfeeding.
Tip: Put a few small stitches into the removable padding to hold them in place. Another option is to use disposable stick-on nursing pads instead. 
Some women don't use the pads at all. Your nipples will likely show-through but you'll be home lots and it's loads more comfy.
How to choose the right nursing bra for sleep
You are not going to get much sleep initially but when the night feeds start stretching out (it seems like it will never happen but it always does), you'll want to be as comfortable as possible when you sleep to get the most out of it. I like to sleep without a bra. I just find it less restricting.
But when my milk is leaking sporadically (this usually happens in the first 2 months of breastfeeding and every time your baby pulls out his/her night feeds just that little bit more), I wear a sleeping bra to bed to avoid wetting my t-shirt and the sheets.
Further reading: The best sleep pumping bras on Amazon
Further reading: Should you wear a nursing bra to bed when breastfeeding?
Also check out What should you wear to bed when breastfeeding? Your best options listed.
If you're thinking it's a waste to buy a nursing bra just for sleep when you're already spending so much on nappies and other baby stuff, I hear you. If you bought a hospital sleep bra, use that. Most wireless nursing bras (especially the ones for new moms I listed above) will be comfy enough to sleep in.
Other options include crop tops, nursing camis with built-in shelf bras, nursing tanks and nursing sleepwear like the sexy Kindred Bravely Lucille Nursing Nightgown. Read my article on great alternatives to nursing bras for more details.
Kindred Bravely Lucille Nursing Nightgown
Further reading: Great alternatives to nursing bras
If you didn't buy a hospital sleep bra and now want to buy a nursing bra specifically for sleep, read the section above on how to choose the right nursing bra to bring to hospital. All my recommendations for the best nursing bras to bring to hospital are perfect to wear for a comfy sleep.
If you have big boobs, read the 5 best (and only) sleep bras for large breasts that I recommend.
How to choose the right everyday nursing bra? (4-8 weeks post-birth and beyond)
From about the 6 week mark, your milk production stabilizes. Your breasts stops fluctuating so much and usually return to the size they were at about 8 months of pregnancy.
You'll also slowly be returning to 'normal' activities and will be spending more time out of the house. At this stage, you need a nursing bra with these features:
Now that you're out and about a lot more, a good supportive bra is super important, not only for comfort but to prevent breast sagging further down the track. Look for bras that have thicker shoulder straps, wider under-bust bands (if wearing a wireless bra), or flexi-wires for good support. Also make sure that you get nursing bras with adjustable shoulder straps and back bands so you can 'customize' the bra to fit you perfectly. I also like racerback nursing bras. They provide great support and there are no issues with straps falling off my shoulders.
allows easy breastfeeding, especially in public
Unless you want to rush around looking for a parent room every time bub needs to feed, you will inevitably find yourself breastfeeding in public at least once in awhile. Most bras with drop-down cups have a side sling and some even have A-slings which covers a bit more boob for added discretion. That's not the most important feature because you can easily cover yourself with a nursing shawl or wrap. What's more important is how easily you can unclip and re-clip your bra cups with one hand (assuming you are carrying bub in the other hand).
protects from milk leaks and nipple show-through
I don't know about you but I feel embarrassed if my nipples are showing through my clothes or worse, there's a milk patch on my chest. You can easily use a disposable nursing pad with unpadded bras but that's one extra thing you have to do in the morning. Better to wear a nursing bra with pads in place that will protect against both nipple headlights and milk leaks.
make your boobs look good under clothes
Why not? Being a mom doesn't mean you have to be frumpy. When you look good, you feel good. There are plenty of nursing bras that separate and lift, giving you a nice, smooth silhouette under clothes. They are usually called 't-shirt nursing bras' or 'contour bras'. Some brands offer push-up nursing bras but most breastfeeding moms don't need the extra help.
Of course you are more than welcome to continue wearing your 'new mom nursing bras' and sleep/hospital bras but if you're looking for a nursing bra that is more structured and presentable for wearing out, these are some of your options:
Wireless nursing bras
Non-contoured nursing bras with removable padding
Non-contoured nursing bras are often recommended in the first few months of breastfeeding but you can also use them as an everyday bra throughout your breastfeeding journey. These 2 non-contoured bras are comfy enough to wear when you're a new mom but also offer superior support compared to other less structured bras.
I love the lace racerback design of the Sublime Lace Back Nursing Bra. It's wireless and seamless for comfort but has a thick under-bust band and adjustable straps for support. The bra also features removable padding and drop-down cups with side slings for breast support while nursing.
Bravado! Designs Body Silk Seamless Nursing Bra
The Body Silk Seamless Nursing Bra has awesome support features – adjustable shoulder straps and 6 hook and eye options, wide shoulder straps and under-bust band, full cups (especially good for large breasts) with surrounding knit-in zones. The bra also has drop-down cups with A-slings which arches above your nipples like the letter 'A', covering the tops of your breasts from public view. Read my in-depth review on the Body Silk Seamless Nursing Bra.
*Both these nursing bras have the option of removable pads but keep in mind removable pads can move. Most moms find a few small stitches to hold them in place is enough to do the trick.
Contoured nursing bras
Nursing bras with sewn-in padded cups are generally called contoured nursing bras. Contoured cups can be made of foam or spacer fabric. Foam cups tend to be thicker. Spacer fabric is often thinner and easier to fold down for nursing. Spacer fabric also molds to your breasts when warmed up by your body heat, providing a contoured profile without the bulkiness of foam. Other than giving your breasts a nice shape under your top, the padded cups also catch milk leaks. Win-win! These are some of my favorite contoured nursing bras:
The Tutti Frutti Nursing Bra is one of my personal favorites. It is made of soft, breathable bamboo which sits oh so comfortably! on my skin. The racer-back design, adjustable straps and wide under-bust band all work together to provide awesome support without the need for wires. It's plunge neckline and touch of lace helps me feel sexy. And the icing on the cake? The memory foam contour cups has a push-up effect for cleavage! My husband loves this bra.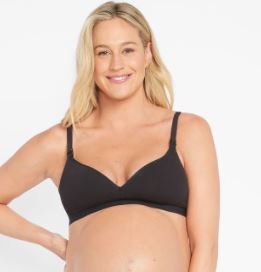 The Bonds Contour Nursing Bra was my go-to everyday T-shirt bra for 2 years! Yes that is how long it lasted. I still wear it at home now. The stretchy cotton fabric is soft and comfy, accommodating changes in breast size. The cups are thin so they are super easy to clip down for breastfeeding. It has also held its shape through many machine washes. Read my in-depth review of the Bonds Contour Nursing Bra.
Further reading: The 13 best wireless nursing bras on Amazon 
Flexi-wired Nursing Bras
What are the benefits of flexi-wired nursing bras over regular wired bras?
Flexi-wired bras have a bigger moon shape cup compared to regular wired bras to accommodate milk-laden breasts. Flexi-wires are also more flexible and comfortable than the rigid wires found in regular bras.
What are the benefits of flexi-wired nursing bras over wireless nursing bras?
I would only recommend wired nursing bras to moms whose breast sizes have stop fluctuating. If you are experiencing any engorgement at all, wearing a flexi-wired bra would be agony. However, if breastfeeding is well-established and your breasts are behaving themselves, flexi-wired nursing bras offer great support and help prevent breast sagging in the long run. Flexi-wired bras also give your breasts a flattering shape (good bye uni-boob!). They are especially good for women with large breasts.
These are my favourites:
The Croissant Nursing Bra has been described as buttery-soft (like a croissant) and has lightly-contoured cups for shape and lift without the bulk. You can also buy matching briefs to suit.
The Forever Yours Nursing Bra is another great flexi-wired bra with contour cups. The plunge neckline allows you to wear low-cut tops and show some cleavage. It is also seam-free giving you a smooth line under clothing.
Further reading: The 9 best underwire nursing bras that don't cause clogged ducts
How to choose the right nursing bra to wear back to work?
Going back to work can be emotional and stressful for new moms. You are not only dealing with separation anxiety from being away from bub for prolonged periods, there are also loads of other hurdles like getting your brain to work again, breast milk pumping at work, and getting bub used to the bottle (no easy feat). Assuming you want to continue breastfeeding your baby, you should look for nursing bras with these features:
When you first go back to work, your breasts will go into withdrawal from not having baby suckle all the time. Unfortunately, this means you get engorged multiple times in the day again. Breast milk pumping is great if you can do it regularly but most working moms don't get to pump as often as they would like at work. With this in mind, definitely go for wireless nursing bras made from stretchy material.
Protection from nipple show-through and milk-leaks
The last thing you want is for your boss and colleagues to get distracted by your nipples showing through your unpadded bra. Milk-leaks also happen very commonly. Unless you want to carry around multiple change of tops, I highly recommend padded nursing bras to wear back to work.
Allow easy breastmilk pumping
Time is of essence. You will find very limited time to sneak pumping sessions into your work day. Make sure you wear nursing bras that allows you to pump easily. Better yet, wear a hands-free pumping bra.
These are some of great nursing bras to wear back to work:
Cake Maternity Mousse Padded Nursing Bra
The Mousse Nursing Bra is wire-free for comfort and has padded cups for shape and protection. It also feels luxurious with a polka dot mesh and satin edging. Comes with matching briefs.
The Tutti Frutti Nursing Bra is one of my personal favorites. It is made of soft, breathable bamboo and is extremely comfy. The racer-back design, adjustable straps, contoured cups and wide under-bust band all work together to provide awesome support without the need for wires. The plunge neckline and touch of lace allows you to wear lower cut tops without fear of your nursing bra peeping over the top.
If you are wearing a 'regular' nursing bra and want to pump hands-free, then bring this bra along as well:
The Signature Pumping Bra has a fully adjustable 10 inch velcro back panel and easily slips over your 'regular' nursing bra. The 4-way layering support keeps a tight seal of breast shields and fits all standard pump flanges from major brands like Medela, Spectra, Phillips Avent etc.
What do I do? I wear this nursing bra to work:
I love my Lotus Pumping Bra! It allows me to feed my baby before work and there is no need to layer another pumping bra on top for hands-free pumping at work.  This saves me precious time. It is also really supportive, comfy and compatible with most breast pump brands. The only downside? It's not contoured. I use removable pads to protect against milk leaks and nipple show-through. It's also the best pumping bra to use with a Spectra pump.
These are the 7 best all-in-one nursing and pumping bras on Amazon.
Further reading: The best pumping bras for work
If you have small breasts, read my article on the best pumping bras for moms with small chests
How to choose the right nursing bra for sports?
Even though your first few weeks as a new mom might be spent shuffling around at home like a zombie, at some point you will feel the need to start moving again. While you can wear regular nursing bras for sports, there are nursing sports bras made specifically to support your breasts during physical activity. These are the features you should look out for in a nursing sports bra:
How much support you need from your nursing sports bra all depends on what activity you are wearing it for. For low impact activities like yoga and pilates, you might even get away with wearing a regular everyday nursing bra (see above). However, if you are running, jogging, or doing anything that involves breast-bounce, choosing a nursing sports bra with superior support is a must to prevent discomfort and breast sagging.
Make sure the nursing sports bra is made of wicking fabric to work the sweat away from your boobs. Other features to look out for are straps that don't bite into your skin or fall off your shoulders, stretchy fabric that supports your boobs well but isn't so uncomfortable tight that it impedes your milk supply.
This is my favorite nursing sports bra for low-impact activities:
BRAVADO! Designs Body Silk Seamless Yoga Nursing Bra
The Body Silk Seamless Yoga Bra is specifically designed for low impact activities like yoga and walking. The soft, seamless 4-way stretch fabric provides maximum comfort and molds to your body. You can also convert the normal 'U' back style to racerback for tank tops. It comes with removable foam inserts for nipple and milk-leak protection.
This is my favorite sports bra for high-impact activities:
The Zest Nursing Sports Bra is made specifically for high-impact activities. The molded cups separate your boobs so you don't sweat between them, the wide padded straps disperse weight on your shoulders, and it is made of smooth spacer material to reduce friction and wick moisture away from your body. The high-impact flexi-wire and molded cups also minimize bounce and give lift and shape. It's great for moms with large breasts who need a more supportive sports bra.
If you intend to pump when you're out and about, this is my all-time favorite combined sports bra, nursing bra and  hands-free pumping bra:
I wear my Lotus Pumping Bra a lot when I'm out and needing to pump. It allows me to feed my baby, exercise, work, run errands and pump without needing to swap bras. Love it! However, it's only supportive enough for low-impact activities so bear that in mind if you're going for this nursing/pumping sports bra.
Further reading: Best nursing sports bras on Amazon
How to choose the right nursing bra for an evening out?
Evenings out and few and far in between so make the most of it. Most of the time I feel like a 'milk cow' and in 'mom mode' but the few times I get an evening out, I want to feel like the sexy woman that I am. I think every nursing mom should have a sexy nursing bra that makes her feel great. When you are choosing a nursing bra for special occasions, these are the main features to look out for:
How sexy you feel wearing it
Look for nursing bras with beautiful colors, lacy material, plunge necklines etc. But really, it doesn't matter so much what a bra looks like but how attractive you feel in it.
It doesn't matter so much if your 'evening out' nursing bra is not as comfortable or as supportive as your every day nursing bra but it should still be of good make and provide adequate support. Don't be stingy and go for a cheap nursing bra or wear a regular bra instead. You still want to make sure you don't end up with clogged ducts at the end of the evening.
This is one of the sexiest nursing bras I have tried on:
The Truffles Nursing Bra is one of the sexiest nursing bras I have tried on. It made me feel less like a mom and more like a sexy woman again. In fact, you would continue wearing this bra beyond breastfeeding because it doesn't look like a nursing bra at all. It even comes with matching lacy briefs! Read my in-depth review on the Truffles Nursing Bra.
Why should I wear a nursing bra? Can't I wear my regular bra instead?
Nursing bras are so much more comfortable than regular bras. They know how sore and sensitive breastfeeding moms are. Wearing a good nursing bra can feel almost like wearing nothing at all.
Nursing bras make breastfeeding infinitely easier. Imagine having to pull off your bra every time baby needs to feed. It will drive you crazy. Plus, there is no way you can breastfeed in public in a regular bra.
Nursing bras have extra support features like wider straps, wide under-bust bands, knitted zones and more hook and eye options for better support and fit.
Nursing bras are flexible. They are meant to grow with you through pregnancy and while nursing.
Wireless nursing bras prevent complications like clogged ducts and mastitis
Convinced yet? 🙂
Read: Nursing bra vs regular bra: A quick and easy comparison
How many nursing bras do I need?
It depends. Some moms are happy using the same style of nursing bra every day. Even if this was so, you will still need at least 3; one to wear, one to wash, and one as backup. Make sure you buy nursing bras that provide adequate support for your every day activities but are also comfortable enough to wear at night. The wireless everyday nursing bras I mentioned above should do you just fine.
For more info, read: How many nursing bras do you need?
What size nursing bra should I buy?
A lot of women make the mistake of buying nursing bras one to two cup sizes up. But a good nursing bra will have stretchy fabric that will accommodate fluctuations in breast sizes. Having extra room in your bra cups will take away precious support for your boobs. What you should do is to get fitted at the right time and buy your nursing bra in the size you were when you got fitted.
Read: What nursing bra size should I buy? A simple guide.
When should I get fitted for a nursing bra?
Getting your nursing bra size just right can be tough because you will not be the size you were pre-pregnancy and sizing is different from brand to brand.
For more info, read When to start wearing nursing bras (and why).
During pregnancy
The best time to get fitted when you are pregnant is when you are about 8 months into your pregnancy. Your breast size around this time should be about the size your breasts will be 8 weeks post-birth after milk production stabilizes.
Post-delivery
The most accurate time to size yourself for longer-term nursing bras like flexi-wired nursing bras or contoured cup bras is about three to four months post-delivery. Your breast milk supply should be stable by then and your breast size would have stopped fluctuating so much.
How do I measure myself for a nursing bra?
Some women get fitted by a nursing bra expert. Most women do their own measurements at home. All you need is a measuring tape or ribbon and ruler.
Step-by-step guide to measuring yourself for a nursing bra:
Measure your underbust by wrapping the measuring tape around your body, directly under your breasts. The tape should be straight around your chest and be snug but not tight. Round this measurement by up to the nearest even number, let's say 34 inches. This is your band size. 

Measure your bust by wrapping the tape around the fullest part of your breasts. If you are already breastfeeding, do this before a feed. Again, make sure the tape sits straight around your chest. Let's say your bust measurement is 37 inches. 

Determine your cup size by subtracting your band size from your breast measurement. Each whole number difference is one cup size. A difference in 2 inches is a B cup, 3 inches is a C cup, 4 inches is a D cup etc.  In this example, 37 – 34 = 3 inches, therefore you are a C cup. 

Therefore, your nursing bra size is 34 C! Keep in mind that different bra designs and brands have slightly different variations in fit which might mean a different size will feel better on you. 
This video shows you how to measure yourself for a nursing bra:
Read: What nursing bra size should I buy? A simple guide.
How many cup sizes do I gain during pregnancy and breastfeeding?
Most women gain 1-3 cup sizes and 1-2 band sizes during pregnancy and stabilize around the 4 month mark. However, your ribcage continues to expand as your baby grows. By the end of your pregnancy, your ribcage would usually have expanded by at least 5 cm.
During breastfeeding, your breast size can fluctuate wildly until your milk supply stabilizes. Most women generally gain 2-3 cup sizes and after a few months, your breasts settle into a size nearer to your regular cup size. Your ribcage will 'shrink' back to normal after the delivery.
Keep these changes in mind when you are choosing your nursing bra.
What should I look out for when trying on a nursing bra?
Good nursing bras are made of superior material that can stretch and contract easily with fluctuations in your breast size and rib cage. Your nursing bra should feel soft and comfy on your skin.
Make sure you can fit one hand inside your bra cup. This small space allows for some fluctuation in breast size and for nursing pads if necessary. If you have large breasts, choosing nursing bras with encapsulated cups will separate and lift your boobs so they are not squished together.
I say easy because even though all nursing bra have clip-down cups, some are more fiddly than others. Try opening and closing the cups on both sides with one hand. This is a very important feature because you will be opening and closing them regularly with one hand while holding your baby with the other hand.
A-sling vs side-sling support
Most nursing bras have a side-sling support. This is a stretchy piece of fabric that sits on the outsides of your breasts to provide support while you are breastfeeding and your cup is folded down. An A-sling is when this fabric is slung over your breasts in the shape of an 'A'. If you have large breasts, or breastfeed in public a lot and prefer more of your boobs to be covered, an A-sling provides better support and coverage.
Nursing bras with wide, padded straps will disperse the weight of your larger boobs and prevent the bra straps from digging into your shoulders. Nursing bras with racer back designs tend to have better impact support than standard 'U' designs. Most bra straps would also be adjustable but check anyway to make sure.
If you are trying on a wireless nursing bra, make sure the under-bust band is thick and wide so that it can support your breasts adequately. The band provides 80% of the support of your bra so this is very important. A wide band also sits on your frame better and won't dig in. '
Make sure your nursing bra has at least 3 to 6 rows of hook and eye options or comes with a bra extender as your frame will change throughout pregnancy and after. If you are about 8 months pregnant when trying on your nursing bra, you should be fitting the back band of the bra on the outer-most hook. When trying on a bra at the beginning of pregnancy, fit the band to the inner-most hooks so that the bra can grow with you throughout pregnancy.
The nursing bra should sit flat on your body with no breast spillage, side boobs, gaping, bulges or pinching. When you put on your new bra, you should feel great. The band should be low and even under your breasts and round your back. If your bra rides up too much in the back, choose a bra with a smaller girth.
After you put your bra on, try sitting down, standing up, lying down and bending over to see how comfortable it is. Move around, pretend to do chores, stretch your arms above your head and to the side. If you're buying a nursing sports bra, do a few jumping jacks or try a short run to see how much bounce there is.
Adjust and tighten the straps until they fit well. The cup should be just right. If it gapes, the cup is too big. If your boobs are cutting into the edge of the bra, the cup is too small.
Do you like how you look and feel in your new nursing bra? How does it look under your favorite top?  Check in with yourself and only wear a nursing bra that you're happy with.
Further reading: Best nursing bras on Amazon
Signs your nursing bra is too big
Your cups gape or wrinkle
Your boobs can slip out of the bottom of your cups
The under-bust band rides up in the back even on the tightest hook
The straps slip off your shoulders even when tightened
Further reading: Best nursing bras for moms with small chests
Signs your nursing bra is too small
Your breasts spill out the top
Side boob
The straps dig into your shoulders
The flexi-wire pokes into you
The center doesn't lay flat between your breasts
Your boobs feel too restricted
You can't breathe or move properly
Further reading: The 11 Best Nursing Bras for Large Breasts
To wrap up
Choose the highest quality nursing bra your budget will allow. High quality nursing bras may not be cheap but trust me, there is a massive difference in comfort and support between a high quality nursing bra and a cheap one.
If your nursing bra isn't just right, keep looking until you find the perfect fit. It can be easy to put up with the wrong bra but you won't regret spending the extra time and effort on picking the right bra.
If you found this guide helpful, please help spread the word by sharing it with your fellow mamas. Happy breastfeeding 🙂
Quick links: