This article was updated on 10th of August 2021. 
You are tired of nursing sports bras that don't support you.
You find it hard to exercise when you have to keep adjusting your nursing pads.
I hear you.
I breastfed 2 babies over 3 years. If you're like me, you want to be comfortable and supported when exercising but you probably don't know where to find the best nursing sports bra. Buying and trying dozens of sports bras just to find one that fits and supports you is unnecessarily frustrating and time-consuming. Sports bras are one of the most important pieces of clothing for a new mom but too many of them are expensive and don't fit well.
This is my list of nursing sports bras that are supportive, actually comfortable for new mom bodies and can be worn even after our nursing days are over:
What's good about it
the soft, seamless fabric provides maximum comfort, especially when your breasts are engorged and you have cracked nipples
has a full drop away cup for breastfeeding to provide maximum skin-to-skin contact
has removable foam inserts to prevent your nipples from showing through. Also good for absorbing breastmilk leakage
the foam inserts prevents uni-boob and gives your breasts shape despite not having underwire separation
the 4-way stretch fabric molds to your body as it grows – great to wear from pregnancy to nursing. The stretchy fabric also accommodates fluctuating breast sizes and engorgement well
Can be converted to criss-cross style for tank tops
caters for women with large breasts – the X-large size can be worn by women with breasts up to cup size 44F
specifically designed for low impact activities like walking, yoga and keeping up with babies
holds up well to multiple washes
affordable
all these makes it ideal for new moms and everyday use
What's not so good about it
the straps are quite narrow and can cut into your shoulders if you have large breasts
the metal connecters that allow conversion to criss-cross style can dig in
doesn't offer enough support if you are very large-breasted
What's good about it
Comes in fun colors
High impact flexi-wire and moulded cups minimize bounce during high-impact exercise like running and give support, lift and shape
Moulded cups also separate your breasts so you don't sweat between them
Wide padded straps to disperse weight
Made of smooth spacer material to reduce friction and wick moisture away from body
J-hook conversion for extra support and versatility
Oeko-Tex® Standard 100 Certified material
Matching brief available – Zest Brief
Full coverage cups fit up to size 40K
Adjustable with 5 hook and eye options
Great support for moms with large breasts
What's not so good about it
Band sizes run small and cup sizes run big
Underwire can dig in if bra fit isn't right
What's good about it
Seamless, wireless and made of ultra-soft fabric for comfort, can even be worn to bed
Easy pull on style
Designed for everyday activities and low-impact exercises like yoga
Clip down cups are easy to open with one hand
Good coverage preventing front and side boob spillage
What's not so good about it
No padding so nipples can show through without breast pads
Sizes run small so order one size up
What's good about it
Designed specifically for women with large breasts, supports up to H cup
Has a flexi-wire for extra support
A-frame sling for support and discretion during breastfeeding
Made from cotton elastane fabric that is moisture-wicking and breathable
Cotton-lined wide straps
Available in fun colors
Padded front straps and flexible underwire
6 hook and eye extensions for ribcage expansion
What's not so good about it
Good for gentle exercises but not supportive enough during running, jumping and other high-impact exercises
Cup sizes run small
Cup fabric only lightly-lined so nipples can still show through
What's good about it
It is wireless and has smooth seams for comfort
The waffle mesh fabric provides breathability
It has one-handed clips and drop down cups for easy breastfeeding
Affordable
What's not so good about it
Style runs small
It's not supportive enough for moms with large breasts
It clips high on your shoulders so you might need to pull your breasts out to nurse
The under-layer can form an  uncomfortable 'boob-thong'
The smooth seams are not as smooth as claimed and can cause chaffing and discomfort
The Enell Sports Bra is not technically a nursing sports bra but deserve special mention for the superior support it offers for high impact activities and moms with large breasts.
What's good about it
specifically designed for women with large busts
actually works for high impact exercise
has a hook-and-eye front closure which makes it relatively easy to breastfeed
has a wide elastic band to provide more support
Made from moisture-wicking LYCRA and NATUREXX fabric to prevent boob sweat and heat build-up
What's not so good about it
Can cause a uni-boob look
Nipples can show through due to lack of padding
Can feel tight and uncomfortable at first but it gets more comfortable after a few wears
Buyer's guide
What is a nursing sports bra?
A nursing sports bra has all the features of a regular sports bra but with additional features like drop-down cups and pop clips for easy breast-feeding.
Are nursing sports bras necessary?
Yes, if you are exercising or doing high-impact activities. Nursing sports bras offer more support than regular nursing bras and reduce bounce. Some moms even opt for nursing sports bras over regular nursing bras for everyday use.
Can you wear a regular nursing bra for exercising?
Yes, you can. However, make sure that your regular nursing bra provides enough support and is well-fitted. I still recommend wearing a nursing sports bra or even a regular sports bra when you are exercising.
Are nursing sports bras more comfortable than regular nursing bras?
That depends on what bras you have.  In general, no. Nursing sports bras are designed to fit snugly and hold your breasts in place during exercise whereas regular nursing bras, especially sleep nursing bras, are designed for comfort.
Is it OK to wear a nursing sports bra every day?
Yes it is OK. Many moms are  pretty active throughout the day keeping up with their kids and find nursing sports bras to be more supportive and convenient than regular nursing bras. As with any bra, make sure the sports bra is not too tight and if you find it too uncomfortable to wear all the time, only use sports bras when exercising.
Further reading: How many nursing bras do you need?
When should you start wearing nursing sports bras?
You can wear nursing sports bras anytime! But you can start wearing them from pregnancy as nursing sports bras are designed to be more stretchy and supportive than regular sports bras so they can grow with you throughout pregnancy and breastfeeding.
Also read: When to start wearing nursing bras (and why).
Can nursing sports bras decrease milk supply?
No, nursing sports bras won't decrease your milk supply. However, as with any bra, if the bra is too tight,  it can cause blocked milk ducts which can lead to engorgement and mastitis.
Will nursing sports bras prevent sagging breasts post-breastfeeding?
Nursing sports bras support your breasts and prevent bouncing during exercise. This will protect your breast ligaments from stretching and help prevent saggy breasts later.
Do nursing sports bras last longer than regular nursing bras?
Yes. Nursing sports bras are usually made of durable fabric that can retain their stretch through multiple washes. This is also another reason to buy a good quality nursing sports bra as it can last you through breastfeeding and beyond.
OK, I'm convinced. How do I choose a good nursing sports bra?
This depends on your needs but in general, these are the criteria to look out for:
adequate support for your needs, especially if you intend to do high-impact exercises
comfort – look for soft, moisture-wicking material
stretchiness – fabric with 4-way stretch will accommodate your growing body and fluctuations in your breast size
convenience – look for features like one-handed pop clips for easy breastfeeding and bras that are machine-washable
Further reading: How to choose the right nursing sports bra for you
How do I measure for a nursing sports bra?
Brands usually have specific advice on their size charts but in general, order your current size.
Measure a nursing sports bra the same way as you would a regular nursing bra. This video explains it in more detail:
Should nursing sports bras feel tight?
Nursing sports bras should feel snug but not be too tight. You should be able to get no more than one finger under the cup and band. Also make sure the bra is stretchy enough to accommodate fluctuations in your breast size. A bra that is too tight can cause blocked ducts and mastitis.
Should you sleep in a sports bra?
Yes, whatever rocks your boat. Just make sure it is not too tight. However, most moms prefer to sleep with a comfy sleep bra or go bra-less.
Find out how to choose the right nursing bra in this in-depth guide.
To wrap up
As a mom of two little ones, I understand that finding the best nursing sports bras for working out isn't always easy. A good sports bra will be supportive, comfortable, and will allow you to nurse your child easily. I hope that this article on the best nursing sports bras was helpful in finding a great bra that meets those criteria.
Quick links: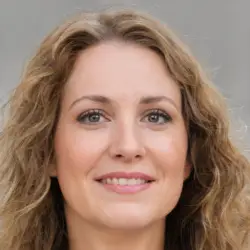 Latest posts by Sharon James
(see all)