With all the money you're forking out for the pregnancy and preparing for your baby, why would you spend more on buying new bras when you have so many already?
Because it's a necessity, not a luxury. Good nursing bras that are comfy, supportive and make nursing easier will make your breastfeeding journey much more enjoyable.
Why should I wear a nursing bra? Can't I wear my regular bra instead?
Nursing bras are so much more comfortable than regular bras. They know how sore and sensitive breastfeeding moms are. Wearing a good nursing bra can feel almost like wearing nothing at all.
Nursing bras make breastfeeding infinitely easier. Imagine having to pull off your bra every time baby needs to feed. It will drive you crazy. Plus, there is no way you can breastfeed in public in a regular bra.
Nursing bras have extra support features like wider straps, wide under-bust bands, knitted zones and more hook and eye options for better support and fit.
Nursing bras are flexible. They are meant to grow with you through pregnancy and while nursing.
Wireless nursing bras prevent complications like clogged ducts and mastitis
Difference between nursing bras and regular bras
This table sums it up:
| | | |
| --- | --- | --- |
| Features | Nursing Bra | Regular bra |
| Design | Specially designed to be more comfy and supportive for heavier, sensitive breasts | Designed to look good, not feel good |
| Nursing features | Easy drop-down cups or pull-aside flaps | No drop-down cups or flaps |
| Top cup | The upper half of the bra cups are stretchy to avoid cutting into fuller breasts | Cups have no stretch |
| Wires | Usually wireless for comfort and to prevent clogged ducts and mastitis | Usually has underwires |
| Flexi-wire | Flexi-wired nursing bras have a larger moon shape and is more flexible | Underwire has a narrower moon shape and is rigid |
| Sling | Have side slings or A-frame slings to support your breasts when nursing | No extra slings |
| Lining | Often have extra cotton lining for comfort | Usually not lined |
| Fabric layers | double layered or reinforced fabric | usually single layer |
| Fabric | Made of soft, stretchy fabric for comfort | Usually made of inferior, non-stretchy fabric that can be irritating to sensitive breasts |
| Straps | Wide straps to disperse weight better | Normal narrow straps |
| Band extenders | Most come with extra hook and eye options or bra extenders | Generally only have 3 hook and eye options |
| Frame | Has a wider bra frame to accommodate your expanding breasts and ribcage | Narrower bra frame |
| Under-bust band | Wide under-bust band for added support | Usually thin under-bust band |
| Pumping features | Some nursing bras have flaps or holes that allow easy breastmilk pumping | No pumping options at all |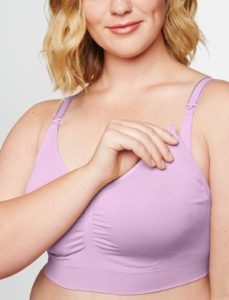 Clip-down cups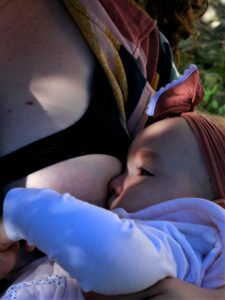 A-frame sling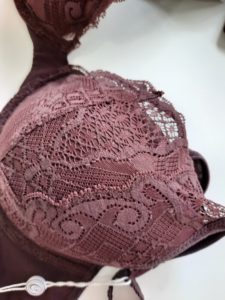 Lined cups
To wrap up
Nursing bras are the Rolls-Royce of bras. They are specially designed to be more comfortable and supportive for heavier, sensitive pregnancy and nursing breasts. I don't think of them as extra expenses but rather, as an investment. When you're exhausted, aching all over and feeling frumpy, a good nursing bra that fits you just right can lift your spirits. 
Now, go read my guide on how to choose the right nursing bra for you. 
Quick links: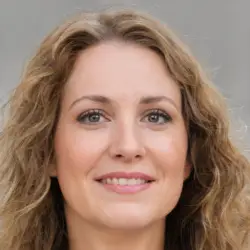 Latest posts by Sharon James
(see all)