If it's possible to love a pump, it was love at first use with my Spectra S1. But if you are reading this article, I'm preaching to the converted. What's more important to share is the best pumping bra to use with your beloved Spectra.
As an ex-Medela pumper, I was totally unprepared for the elegant simplicity of Spectra flanges. There was nothing to assemble! All I had to do was connect the shield to the bottle and the diaphragm.
My smile turned into a frown when I tried to squeeze the Spectra shield through my pumping bra 'hole'. I ended up pumping without a bra that day. 
Unlike detachable flanges, Spectra shields come as a one-piece and need pumping bras that are specially designed to accommodate this.
These Spectra-compatible pumping bras are the best when it comes to comfort, security and convenience:
This is obviously not the only Spectra-compatible pumping bra, but my favorite hands-free pumping bra is the Cake Maternity Lotus Pumping Bra. It's the perfect all-rounder, can be worn 24/7 if you want to, and comes in sizes XS to busty XL (fits 30A to 40G).
This is literally a 3-in-1 nursing bra: You can use it as a 'regular' nursing bra to breastfeed, a hands-free pumping bra, and a yoga bra.
The double-layered cup design means the flange 'hole' is a slit rather than a circle. Pumping bras with slits are the only ones that can work with Spectra flanges.
It ticks all my boxes – it's supportive, comfy and holds my Spectra flanges in a vice-like grip. No issues with spilled milk there.  
It's compatible with most other pump brands as well – Medela, Tommy Tippee, Avent, Pigeon, etc. etc. 
What I don't like about it
It's non-padded. If you're leaking, you'll need to use disposable pads. 
Bear in mind
When you first try it on, it will be snug. But it's a sports bra. It's meant to prevent breast jiggle. It gets a lot comfier after a few wears. 
* I've worn my Lotus Bra for almost a year now and they are still going strong. I'm not breastfeeding anymore by the way, I'm just wearing it as a sports bra.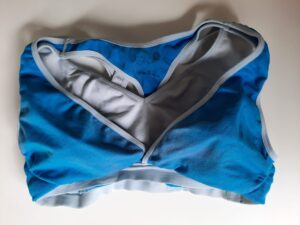 This is what the Lotus looks like after 1 year of rough use. Not bad. 
Read my detailed review of the Lotus Bra.
If you're looking for a more 'respectable' bra for work, The Momcozy Pumping Bra is your best bet. It looks great under sheer tops and provides good support, even for moms with large breasts.     
Why is the Momcozy Pumping Bra so awesome?
Uses an 'X' structure to hold your shields in place securely
Unlike some 2-in-1 nursing and pumping bras, it's not bulky in the cups 
Converts to racerback design for extra support 
Excellent value-for-money
What I don't like about it
The fabric is thin and might not be supportive enough if you have heavy breasts
It's not a structured bra – moms with large breasts are at risk of uni-boob  
Bear in mind
Sizes run big. Order down a size. 
I get it. Regular pumping bras can look a bit frumpy. Sometimes a girl just wants to feel sexy. The Ayla Pumping Bra is the answer to your dreams.  
There is nothing like lace to help you feel sexy
It has hidden flange openings – no one would know it's a pumping bra unless you show them the 'secret door'
It's one of the only pumping bras with a demi-underwire (half cup) to provide support and lift while preventing clogged ducts
Available in black, cream, champagne, iced coffee and sage, coral rose and midnight. What dreamy names! 
What I don't like about it
The lace can be itchy on sensitive skin
Sizes run small so make sure you try it on before cutting the tags off
Bear in mind
You should only wear a flexi-wired pump bra if you can pump regularly. Otherwise your breasts will get engorged and you'll put yourself at risk of clogged ducts. 
Understandably, some of you might already have nursing bras that you want to make full use of. If that's the case, these are your options:
The Simple Wishes Pumping Bra is not actually a bra but more a band with an adjustable Velcro back panel that you wear over your open nursing bra. It has a zip-in center panel at the front to allow 1 inch of side-to-side movement so you can get the best fit for your flanges.
Why is the Signature Pumping bra so awesome?
Easily slipped over your nursing bra for pumping sessions
The 4-way layering support keeps a tight seal on your breast shields
Has a fully adjustable 10 inch Velcro back panel to fit any sized mom 
Can be used with most major pump brands.
What I don't like about it
The edges can fray with use
That's a few extra steps needed to use the bustier – precious minutes I don't have to waste
Bear in mind
You'll need to remove your top to fit the bustier on. Personally I would feel too exposed. 
This handy accessory won the Mom's Choice Award for being convenient, easy and discrete. It attaches to any nursing bra with B clips. 
Why is the BRAVADO! Nursing Bra Clip-on so awesome?
Has a figure-8 opening that is specifically designed for non-detachable Spectra flanges
Easily attaches to your nursing bra's B clips. Just drop down your cups and attach it to the straps.
Allows you to pump and nurse at the same time
Works with any nursing bra with B-clips/ drop-down cups
What I don't like about it
It's an extra few steps in your pumping session when you're already rushing for time
Sizes run small so measure yourself with your nursing bra on
Bear in mind
The price is similar to some pumping bras, e.g the Momcozy pumping bra. It might be worth just buying a pumping bra that you can wear throughout the day as well.   
How do I choose the best pumping bra or accessory that will work well with my Spectra?
What's best for you depends on your circumstances and preferences. These are the features to look out for in a pumping bra to make sure it works well with your Spectra flanges:
Slits instead of round holes to fit the non-detachable Spectra shields
A tight fit around your shield so that your shield and bottles will stay in place even when your bottles are full
Other features of a good pumping bra:
Made of flexible material that will stretch and contract with your boobs
Wireless and has a wide under-bust band for good support
Easy to use and time-saving
Preferably able to multi-task as a regular nursing bra as well
The Cake Maternity Lotus Pumping Bra fulfills all the above criteria and more. I've been using my Lotus Pumping Bra for a year now and it's still going strong. 
Other burning questions you might have
Can you pump hands-free with a Spectra pump?
Of course you can! You can pump hands-free with any electric pump if you wear a hands-free pumping bra. 
What are some of the best types of pumping bras?
Pumping bras are generally divided into two groups:
Combined nursing-and-pumping bras
You can wear these bras throughout the day. They are designed to allow you to both breastfeed and pump. These are the best types of pumping bra for convenience and comfort. They are also great value-for-money. 
Read: The 7 best all-in-one nursing and pumping bras on Amazon
Pure pumping bras/ bustiers
These are bras or bustiers that you put on specifically when you want to pump. They are designed purely for pumping and are generally not comfy or supportive enough to wear for a long period of time. 
The Simple Wishes Pumping Bra is one of the most popular around but I'm not a fan of these type of bras. I don't get why I need to buy a bra just for pumping when they are so many great combined bras on the market.   
How many pumping bras do I need?
You will need at least one pumping bra if you intend to do hands-free pumping. If you work full-time, you will need at least 2 pumping bras that you can alternate while the other is in the wash.
For more info, read: How many nursing bras do you need? Also read When to start wearing nursing bras (and why).
Can I use a regular bra with my Spectra pump?
 Of course you can! The only problem with using a regular bra or nursing bra is that it's not hands-free. 
Unless you get a pumping accessory like the BRAVADO! Designs Hands-free Nursing Bra Clip-on. You can easily clip it on your regular nursing bra and it magically transforms it into a hands-free pumping bra!  
Read more: Pumping bra vs nursing bra: Which to choose?
You can also try some DIY nursing bra hacks. 
Do DIY pumping bras work for Spectra?
There are DIY hacks out there teaching moms to cut holes in sports bras and using them as pumping bras. This will not work with Spectra shields. You will need to cut a pretty big hole to fit the flanges and these large holes will never hold your shields in place securely.
But if you have a spare sports bra lying around and want to give it a try, read 4 easy nursing bra hacks- How to use a nursing bra as a pumping bra   
Why do Medela pumping bras not work with Spectra pumps?
Medela pumping bras were made to work with the detachable Medela flanges. The Medela bra (bustier) has round holes. It would be almost impossible to squeeze your non-detachable Spectra flanges through those holes.
Do DIY pumping bras work for Spectra?
There are DIY hacks out there teaching moms to cut holes in sports bras and using them as pumping bras. This will not work with Spectra shields. You will need to cut a pretty big hole to fit the flanges and these large holes will never hold your shields in place securely.
To wrap up
Having a great breast pump is important but being able to pump easily, securely and comfortably is even more important. I think the Cake Maternity Lotus Pumping Bra is one of the best hands-free pumping bras around. I wore it almost every day throughout breastfeeding and am still wearing it now. Have you tried it? What do you think?
If you found this article helpful, help me to spread the word by sharing it with other Spectra fans.
Read more:
For more great nursing bra articles and guides, sign up to my newsletter: