The Cake Maternity Lotus Pumping Bra is one of my favorite pumping bras. It's the perfect all-rounder, can be worn 24/7 if you so choose, and comes in sizes XS to busty XL to fit 30A to 40G.
This is literally a 3-in-1 bra: You can use it as a 'regular' nursing bra to breastfeed, a hands-free pumping bra, and a yoga bra.
The double-layered cup design means the flange 'hole' is a slit rather than a circle. Pumping bras with slits are the only ones that can work with non-detachable flanges like Spectra flanges.
It is amazingly comfy. The Lotus Bra is made of soft, stretchy fabric, is seam free and wireless.
The bra is compatible with most pump brands – Spectra, Medela, Tommy Tippee, Avent, Pigeon, NUK, Minbee and Chicco.
OEKO-TEX certified so you know it's free from harmful chemicals
Size range: XS – Busty XL
Band size range: 30 – 40
Cup size range: A – G cup
Strap style: Racerback
Colors: Blush, Fuchsia, Teal, Tie-dye and Blue
[wptb id=1738]
Who is it for?
Moms who are on-the-go throughout the day. I literally wear this bra all the time except to bed.
Was the Lotus Pumping Bra comfortable?
When I first started wearing it, the bra felt really snug but not in a bad way. It wasn't restrictive, and I think it was made to really mold to your curves so that it can provide more support.
The feeling of tightness very quickly went away after a few washes. Now it fits like a glove. I sometimes forget I'm wearing a sports bra.
The underbust band and sits flat on my skin and don't cut in. Sometimes the shoulder straps twist on me but that's because I tend to be in a hurry when I throw it on in the morning. Once adjusted, they sit flat throughout the rest of the day.
I love pumping with the Lotus Bra. It's so easy to slip my Spectra flanges in and let the pump do its thing for 20 minutes. The hold on my milk bottles is strong and the bra has never once let me down by spilling my precious milk.
I also breastfeed in it. This is where the bra loses a star in the comfort department. It's easy enough to loop the flaps behind my breasts while breastfeeding but they can 'un-loop' easily even while I'm nursing. My boobs have been squished many different ways because of this.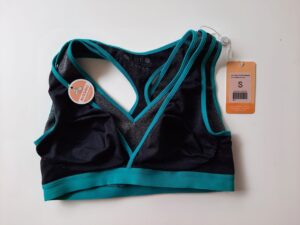 This is what the bra looks like in real life
Did the bra provide good support?
Yes. As mentioned before, it starts out on the tighter side and loosens slightly to just right after a few uses. I feel very secure wearing this bra.
The fabric is thick and sturdy. The flaps hold my flanges and full bottles in place throughout my pumping session.
There's enough coverage that I have no fear of side boobs or my boobs falling out when bending over.
There's no boob bounce at all during my normal every day activities. I've not tried it while running but I suspect it probably wouldn't be good enough support for high impact activities.
Was the Lotus Pumping Bra easy to use?
I admit I prefer 'regular' bras I can put on from the front. Racerbacks are just a little harder to put on, especially when I'm in a hurry. I can also see this being a problem if you have shoulder or back issues.
Aside from that though, this bra is so easy to use. I love it for pumping! All I do is slide the flanges in and I'm ready to go. Once I'm done, I slide them out and the flaps fall into place with minimal adjusting. It doesn't get quicker and easier than this.
Did I feel sexy?
Sort of? It's 100% not something I would wear on a date… unless it's with a gym instructor. But for a sports bra, it looks pretty good.
I wear it to work as well and sometimes the straps show. But the colors are so vibrant and non-dowdy that I don't mind. I just pretend I went to the gym before work.
I've never worn it as a crop top but I can imagine it would look pretty hot for yoga class.
Was the Lotus Pumping Bra good value-for-money?
Yes. For a sports bra it's not expensive. The material is very good quality and it lasts a long time. It doesn't look like a nursing bra at all and you would be able to wear this way beyond breastfeeding.
Also, the last time I checked, the blue Lotus Bra was being sold at a significant discount compared to the other colors.
Why is this you ask?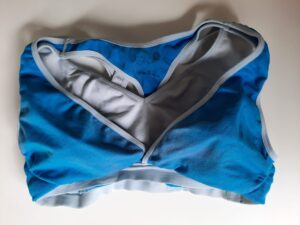 It's hard to see but there is color fade on the cups
I can't answer for Cake Maternity, but I suspect it's because the blue lotus bra fades in color after a few washes. Don't worry, the elasticity stays the same and it's as supportive as ever. I've been using this bra for 6 months now and it's still going strong. It looks like the blue bra might be discontinued because of this. If you don't mind a bit of fading, it's a budget way to get an excellent quality bra for a steep discount.
What I don't like about it
It's non-padded so my nipples show through when I'm wearing tighter tops. I solve this issue by inserting disposable breast pads into the bra pockets.
Unfortunately when I do this, the breast pads tend to bunch up after a pumping session and either need repositioning or replacing.
The racerback sports bra design also means I can't wear my favorite camis and spaghetti straps.
[wptb id=1738]
To wrap up
The Cake Maternity Lotus Pumping Bra is an awesome all-rounder. It's perfect for moms who are always on-the-go. I wear it almost every day and plan to wear it even after I'm done and dusted with breastfeeding.
Quick links: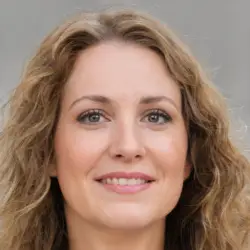 Latest posts by Sharon James
(see all)