The Cake Maternity Truffles Lace Nursing Bra is touted as the sexiest nursing bra ever but how does it perform as a functional nursing bra?
I took it for a whirl to suss it out and this was what I found:
In a nutshell
The Cake Maternity Truffles Lace Nursing Bra is indeed a very sexy nursing bra that makes you feel like a woman again. In fact, you would continue to wear it beyond breastfeeding because it doesn't look like a nursing bra at all. It even comes with matching lacy briefs!
Key features and benefits:
French-inspired lace makes you feel sexy again
Plunge neckline so you can sport a cleavage and wear low-cut tops
Padded and contoured cups to give you a nice silhouette under clothes and protect your nipples from showing through. Also comes in handy for milk leaks.
Flexi-wire for additional support
Oeko-Tex® Standard 100 Certified materials so baby and mommy is protected from harmful substances
Band sizes range: 10 – 16
Cup size range: B – F cup
Strap style: Cantilever lace feature, U-back
The Truffles Bra is perfect for moms with established milk flow who want a sexier nursing bra to wear out on date nights or for work. It's not for new moms as the flexi-wire can cause discomfort and blocked milk ducts.
[wptb id=1052]
If all you want is the sexiest nursing bra money can buy, check it out on Amazon. If you want to know more about its other features, read on.
Cake Maternity Truffles Lace Nursing Bra Review: A deep dive
Who was the tester?
When I reviewed this bra, I was 8 weeks into breastfeeding my second baby and was a 14D (normally 12C). I was still having issues with engorgement and the occasional blocked milk duct. My breast size was also quite unstable throughout the day, depending on how well baby fed.
I bought the chocolate brown Truffles Bra in 2 sizes – 14D and 14E, as I read that the sizes ran small. They don't. They are actually true-to-size.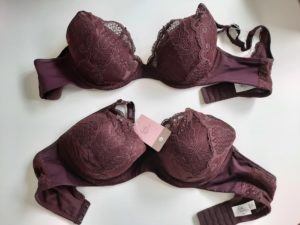 The main criteria I looked for when reviewing this bra were comfort, support, ease of use, sexiness (style factor) and value-for-money. I figured that covers what most moms expect in a nursing bra.
Disclaimer: I bought the Truffles Bra with the intention of keeping it but decided to return it after testing it out for a few days. Even though I loved the look of it, the bra just wouldn't fit my frame. I'll tell you more about it below.
An introduction to the Cake Maternity Truffles Lace Nursing Bra
This super sexy flexi-wired bra was one of the most stunning nursing bras I have seen. I loved the lacy contoured cups and the plunge neckline. It made me feel sexy when sexy was the furthest thing from my mind.
The truffles bra comes in 3 colors:
Nude
Black
Chocolate brown
It also comes with matching lace briefs which are sexy in their own right.
Sizes are in Australian measurements and cup sizes range from B to F while band sizes range range from 10 to 16. The range isn't great and it doesn't really cater to women with larger breasts. Hopefully Cake Maternity will make them in bigger sizes soon. I think women with large boobs would look great in the bra.
It's perfect for moms who are already a few months into breastfeeding and have established milk flow. I wouldn't recommend this bra (or any bra with wires for that matter) to new moms as the flexi-wire can cause blocked ducts and discomfort.
While this bra had a perfect score in the sexiness department, it didn't score as high for comfort and ease of use. I'll go into more details below.
Was the Cake Maternity Truffles Lace Nursing Bra comfortable?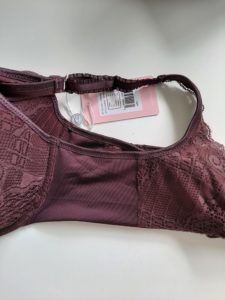 The bra was comfortable for a wired bra, bearing in mind wired bras will never be as comfy as wireless bras. The molded foam cups were cotton-lined and felt soft to my skin. The straps were beautifully lined with lace and didn't dig in.
However, the back band felt a tiny bit abrasive despite being  cotton-lined and it didn't stretch or breathe well.
Another funny thing I found with the Truffles Bra was that the A-sling was positioned quite centrally and sat just lateral to my nipples. It wasn't uncomfortable but it looked like a 'boob seat-belt' when the cups were folded down.
The other issue I had with this bra was that it felt like it was made for women with fuller boobs and a bit of side fat. Even though it was true-to-size and the flexi-wire fitted well along the base of my boobs, there were lots of space in the cups. The band also had extra material on the sides, just beside the cups. This was the main reason I returned the bra – it was just the wrong fit.
However, if it fits your breast and body type, it's pretty comfortable and deserves 4 stars for comfort.
Did the Cake Maternity Truffles Lace Nursing Bra provide good support?
Yes, the bra scored 5 stars for support. It has a flexi-wire which is shaped like a bigger smile compared to a regular bra, providing excellent support. It also comes with 6 hook and eye options so even though the band itself isn't stretchy, the bra can still grow with you.
The cantilever lacy straps were not just beautiful to look at, they were also strong and adjustable.
Was the Cake Maternity Truffles Lace Nursing Bra easy to use?
I only gave it 3 stars for ease-of-use which might have been a bit stingy. The nursing clips were easy to undo and fasten single-handedly. The foam cups were also easy to fold and unfold with one hand. However, I really didn't like how the A-sling straps sat across my boobs. I would have to push it aside and hook it behind my breast every time I wanted to breastfeed. While this is not a deal-breaker as it's stretchy and easily pushed aside, I don't like inconvenience of any sort when I'm already sleep-deprived.
The company also recommends cold hand wash. Who has time for that? Having said that, some moms have said they washed the bra in a garment bag on a gentle cycle and it held up just fine.
Was the Cake Maternity Truffles Lace Nursing Bra sexy?
This is where the Truffles Bra really shines.  The plunge neckline and luxurious lace detail is oozes sexy and goodness knows, we need all the help we can get to feel like sensual women again. It's hands down the most gorgeous nursing bra I have tried so far.
5 stars for sexy!
Was the Cake Maternity Truffles Lace Nursing Bra good value-for-money?
The Truffles Bra is priced in the same range as most other non-budget nursing bras. However, you would pay just as much if not more for a regular lace bra anyway. You can easily see and feel that the bra is made of quality material that will last. It's so alluring that you would happily wear this bra long after breastfeeding is done and dusted.
In that sense, it's good value-for-money.
What was not so good about the Cake Maternity Truffles Lace Nursing Bra?
The Truffles Bra is beautiful but it's cut will not suit everyone. I have a lean frame and despite having full milk-laden breasts, there was a wide gap at the top pf the cups.
The centrally-positioned A-sling didn't cause any discomfort but irked me. I didn't like boob seat-belts. I don't walk fast enough to need them.
Other than that, there's not much to dislike about the bra. It's pretty good.
To wrap up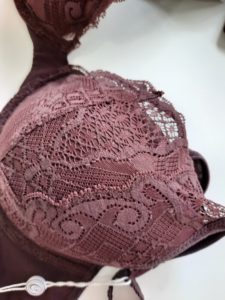 The Cake Maternity Truffles Lace Nursing Bra is hands down one of the sexiest nursing bras I've tried. I really wish it fitted me. Despite my hang-ups about the boob seat-belt, I would have happily worn the bra throughout breastfeeding and beyond.
If you're looking for a sexy nursing bra, give the Truffles Bra a try. Just make sure you buy from a seller who will allow change-of-mind returns.
[wptb id=1052]
I've made a lot of effort to be as accurate as possible. But if I've written something that doesn't seem right, just let me know and I'll research it and get it fixed.
And that is the end of my review 🙂 Does anyone else have any experience with the Cake Maternity Truffles Lace Nursing Bra that you would like to share with us? Please leave a comment below.
Find out how to choose the right nursing bra in this in-depth guide.
Further reading: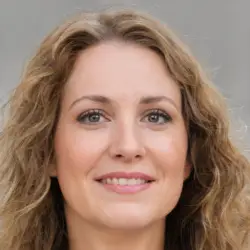 Latest posts by Sharon James
(see all)