The Charley M Buddy Nursing Bra is a light-weight t-shirt nursing bra at an affordable price point.
I checked it out and this was what I found:
In a nutshell
The Cake Maternity Charley M range was specifically made to be affordable. The focus of this whole range is lower cut designs and lightweight fabrics. The Charley M Buddy Nursing Bra embodies this philosophy. The bra was that light that I felt like I was holding foam in my hands!
Who is the Charley M Buddy Nursing Bra for?
Moms who are looking for a more affordable but still reasonably good quality nursing bra
Who is it not for?
Even though it is wireless, this is not a nursing bra for new moms. The Buddy Bra is just not comfortable and stretchy enough to be suitable for the first few months of breastfeeding. Read the best wireless nursing bra for you.
This bra is also not for moms with large breasts as it is not supportive enough. Read my recommendations on the best nursing bras for moms with large breasts instead.
Key features and benefits:
Lightweight, smooth fabric
Gives you a smooth silhouette under clothes
Adjustable U-back and convertible racerback options
Wireless
Pad-printed so there are no itchy labels
Lightly padded cups protect against nipple show-through and milk leaks
Drop-down cups for easy breastfeeding
Stylish leopard print design at the hook and eye closure
Size range: S – XXL
Band size range: 10 – 18 (US 32 – 40)
Cup size range: B – D
Strap style: U-back and racerback
[wptb id=1177]
If that's enough info for you, check it out on Amazon. However, I strongly recommend you read the rest of the review before deciding. Let's take a deep dive.
Cake Maternity Charley M Buddy Padded Nursing Bra Review: A Deep Dive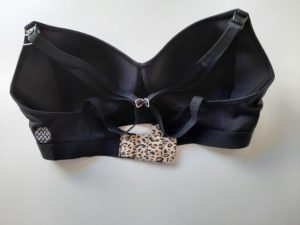 An introduction to the Charley M Buddy Nursing Bra
The Buddy Nursing Bra is part of the Cake Maternity Charley M range. I was a size 12D and bought the bra in M size.
The bra was made of lightweight material and had thin padded cups.
As a t-shirt nursing bra, it didn't disappoint. The bra sat flat under my clothes and gave me a smooth, flattering silhouette. I also liked that it could be converted into a racerback bra which meant I could wear it with tank tops.
In fact, if it wasn't for the drop down cups, I would have mistaken the Buddy Bra for a regular bra.
The bra comes in 6 colors:
Black (I bought this color to review)
Pink
Nude
Purple
Red
Heather Grey (my favorite color)
This nursing bra caters to smaller chested women with sizes ranging from S to XXL for women with bra sizes 32B to 40D.
Who is it best suited for?
Moms with an established breastfeeding routine looking for an affordable t-shirt nursing bra they can wear out like a regular bra.
Who is it not for?
New moms should not buy the Buddy Bra. The fabric wasn't soft enough and there was hardly any stretch in it. If your breast sizes still fluctuate wildly throughout the day, you would almost certainly feel quite uncomfortable in this bra.
It also doesn't suit women with larger breasts. There were lack of good supportive features like wide under-bust bands, thick straps and full cups to hold up big boobs well. Read my recommendations on the best nursing bras for moms with large breasts instead.
Was the Charley M Buddy Nursing Bra comfortable?
Having tried quite a few nursing bras, the Buddy Bra's level of comfort sorely disappointed me. The fabric was rougher than what I have come to expect from good nursing bras. From the moment I put it on, I felt like taking it off again.
The band size ran small and although I took the M size as per the size guideline, the under-bust band felt too tight for me. It didn't help that there was no flexibility in the material to expand.
It also had plastic clips at the front for the drop-down cups and at the back for racerback conversion. They were quite prominent and I could feel the clips where they touched my skin. Not nice.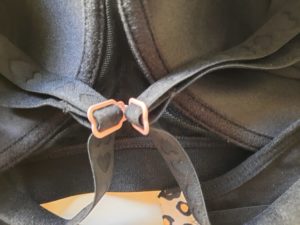 The Full Day Test: I tried wearing the bra for the whole day to see how I felt about it but gave up after a few hours because it was so uncomfortable, especially when my breasts filled up with milk just before feeds.
Did the Charley M Buddy Nursing Bra provide good support?
The Buddy Nursing bra provided good enough wireless support for small breasts. It came with 'normal support features' like adjustable straps and padded cups. However, it didn't go above and beyond to provide extra support that we like from nursing bras like wide a under-bust band, thicker straps and flexible fabric.
The padded cups were one of the redeeming features of this nursing bra. They were thick enough to protect against milk leaks and nipple show but light enough that the cups were easily folded and unfolded during breastfeeding.
The bra had side slings for support but unlike many nursing bras, these slings were just a continuation of the straps and felt quite uncomfortable. They were not at all supportive.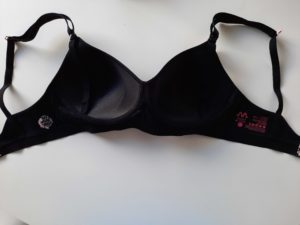 Jumping Jack Test: I had 12D boobs at the time of testing and they bounced like crazy during the jumping jack test. DO NOT TRY THIS AT HOME.
Was the Charley M Buddy Nursing Bra easy to use?
Those dratted clips I kept banging on about before were fiddly and flimsy. I needed two hands to do the clips up because it was just plain hard to hook the cup back on.
Luckily the padded cups were easy to fold and unfold.
Public Breastfeeding Test: I could unclip the drop-down cups with one hand but it took me a bit of maneuvering with one hand, then two, to do the clips up again. You can imagine this was quite awkward to do with a baby in my arms.
Was the Charley M Buddy Nursing Bra sexy?
Aesthetics wise, the nursing bra looked great. The material was smooth and sat flat on my body. It looked like a regular bra even under a tight t-shirt.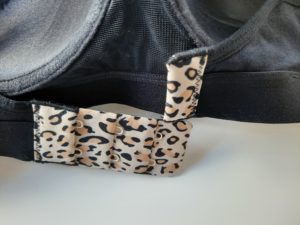 The leopard print pattern on the hook and eye closure gave it a bit of zing.
The design was low-cut so I could wear low cut tops.
The padded cups were not only good for nipple protection but also lifted and separated my boobs.
Hubby Test: Hubby shrugged his shoulders and went 'meh'. This was because I bought the black bra and there were no 'hubby-attracting' features on it. Maybe I should have gone with the red or purple bra.
Was the Charley M Buddy Nursing Bra good value-for-money?
It was definitely a lot more affordable than most of the other Cake Maternity nursing bras but is it good value-for-money? It depends on what is important to you. If you're looking for a good t-shirt nursing bra and your skin is not too sensitive, then yes. If like most breastfeeding moms, you are looking for comfort, support and ease-of-use, then no.
Mummy Test: This was the part where I ask myself (because I'm a mummy) if I would buy this bra. The answer was no.
What was not so good about the Charley M Buddy Nursing Bra?
If you read the rest of the article, you would know by now, there were lots that was 'not so good' about the Charley M Buddy Bra.
It wasn't comfortable enough, supportive enough and easy enough to use for me.
I was quite disappointed in the Buddy Bra as I am a big fan of Cake Maternity and have come to expect much higher standards from them.
Read my reviews on some of my Cake Maternity favorites:
Why you should trust me
I was a breastfeeding mom who was 3 months into nursing my second child at time of writing. I'm a nursing bra enthusiast and after wading through lots of nursing bra duds due to lack of information online, decided to write detailed reviews about nursing bras to help breastfeeding moms make better decisions about the right nursing bra for you.
How I tested this nursing bra
I took into consideration 5 main features that I think a good nursing bra should ace – comfort, support, ease of use, sexiness/ style and value-for-money.
To wrap up
If you are looking for an affordable nursing bra and you're not too fuss about comfort, this is the bra for you.
[wptb id=1177]
For moms who want a comfortable t-shirt nursing bra, there are many other nursing bras out there that are better. One of my favorite t-shirt nursing bras is the Bonds Contour Nursing Bra. Read my detailed review here.
I've made a lot of effort to be as accurate as possible. But if I've written something that doesn't seem right, just let me know and I'll research it and get it fixed.
And that is the end of my review 🙂 If you have any questions about the xx please leave a comment below and I'll get back to you ASAP.
Want to know how to choose the right nursing bra? Read this guide.
Further reading: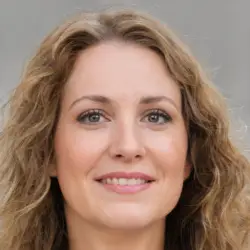 Latest posts by Sharon James
(see all)