Most nursing bras are made of synthetic material that can be very good quality and feel great on the skin.
But let's not forget good old cotton. Environmental benefits aside, cotton nursing bras feel baby-soft on sore nipples and tender breasts. They are also absorbent and breathable, reducing your risk of irritation and rash.
Further reading: Should nursing bras be cotton?
Plus, there are some really good quality yet affordable cotton nursing bras on the market. Check these out:
It ticks all the right boxes – it's comfy, supportive and affordable.
It's made of organic cotton, which is much better for the environment and for your skin.
It's a pull-on style with no hooks or snaps to irritate your skin
It comes in a great range of sizes, catering for moms with size 30B boobs and upwards. It even comes in busty sizes for larger-breasted moms.
Comes in 6 pretty colors
No wonder more than 1000 moms have given it 5-stars on Amazon.
What I don't like about it
It can lose elasticity if not washed properly – make sure you wash it in a lingerie bag on delicate cycle.
Not supportive enough for outside wear.
it's made of 100% cotton
Wireless but has a thick under-bust band and strong straps for support
lightly lined soft cups to absorb milk leaks and prevent nipple show through
looks smooth under t-shirts and tighter tops
A frame slings offer better support while breastfeeding, especially if you have large breasts
6 hook and eye extensions
beautiful lace detailing helps me feel more like a woman, not just a milk factory
larger cups come with wider straps for added support
comes in sizes 32C up to 42GG
What I don't like about it
not all bras in the Show Off range is made of cotton – only the ivory bra, persian leopard print bra (pic above) and navy bra is made of 100% cotton.
full cups come up quite high, this bra is more suited to moms with larger breasts
It's made of soft, breathable cotton (95%) with a bit of Spandex thrown in for stretch
It's a pull-on design with no irritating wires, hooks or snaps
The wrap front makes it easy to pull aside the cups when you're breastfeeding at night
It's one of the most popular nursing sleep bras on Amazon
Holds up well over frequent washings
Great value-for-money
What I don't like about it
Sizes run small so if you're in between sizes, order a size up.
If you have a long torso, the bra might be too short for you
it's made of 100% cotton
beautiful lace detailing helps me feel sexy and womanly
flexi-wired soft cup offer comfy additional support
encapsulated cups for separation, lift and an amazing silhouette under tight tops
padded cups absorb milk leaks and prevent nipple show-through
side sling for side-support during breastfeeding
normal U straps are convertible to racerback
top of cups are made to stretch with breast size fluctuations
fits moms from 30D to 38GG
What I don't like about it
on the pricier side
full cups and thick bands overwhelm smaller bodies – definitely much more suitable for bigger girls
one of the very few nursing sports bra around that is made of cotton
designed specifically for moms with larger boobs up to 48E /50D
racerback design for better support
wireless but has a thick underbust band and wide straps for support
very affordable and great value-for-money
>2000 5-star ratings on Amazon
What I don't like about it
sizes run small so size up
thin fabric – without removable pads, my nipples poke through under tight workout tops
not supportive enough for higher impact activities
Fits moms with bra sizes from 30A to 40F/42G
I can use it for both pumping and breastfeeding
It uses an 'X' structure that holds my bottles and shields in place more securely
I can wear it as a everyday nursing bra and even to sleep
Adjustable shoulder straps and comes with extra expanders for better fit and support
Convertible to racerback style if I want more support
Compatible with most pump brands: Spectra, Lansinoh, Philips Avent, Evenflo etc.
Very affordable and great value-for-money
Number 1 best seller on Amazon with >17,000 5-star ratings!!
What I don't like about it
Thin fabric (might be a positive for some)
Top of bra comes up quite high so I can't wear this with low-cut tops
Sizes run big
It isn't actually a bra but a bustier that easily slips on over your nursing bra when you want to pump
One of the few pumping bustiers/corsets around that is made of cotton
Great value if you already have nursing bras you love and don't want to buy a dedicated pumping bra
Fully adjustable 10 inch Velcro back panel to fit you snugly, no matter what size you are
Fits up to 48J
Zip-in center panel in the front allows for 1 inch of side-to-side movement for proper positioning of breast pump flanges
4-way layering support keeps tight seal of breast shields
Fits all standard pump flanges from major brands – Medela, Spectra, Philips Avent etc.
>10,000 5-star ratings on Amazon – it's one of the most popular pumping bras on Amazon
What I don't like about it
I can't wear it as a bra. That's unnecessary additional steps at every pump session.
The velcro wears off over time
Can unravel at seams with repeated use
It's super affordable – for less than $30 you get a pack of 3 nursing bras in 3 pretty colors.
It's one of the most popular nursing bras on Amazon
It's made of soft, breathable cotton with a hint of Spandex for stretch
The pull-on style means no wires, clasps or hooks to irritate your skin
Simple cross-over front flaps that you can pull aside easily for night feedings
What I don't like about it
The models don't look like they have ever been pregnant
It's too stretchy and not supportive enough. If you have large breasts, don't buy this
The lace lining can be scratchy and irritating.
If you can afford it, choose a better quality nursing bra even if it costs a bit more. You won't regret spending the extra money.
To wrap up
The best cotton nursing bra of all has to be the Kindred Bravely Extra Soft Organic Cotton Nursing Bra. It ticks all the boxes – it's supportive, comfy and affordable. Plus it's organic. The HOTmilk nursing bras make your boobs look good and give you a hint of sexy. And if you are looking for a cotton pumping bra, you have two great choices to choose from – Momcozy pumping bra or the Simple Wishes Signature Pumping Bustier.
With so many natural cotton options to choose from, why buy synthetic?
Check out my review on the best cotton nursing tanks.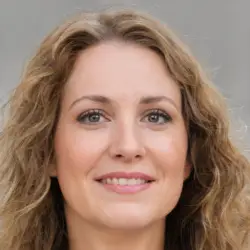 Latest posts by Sharon James
(see all)