Nursing bras with A-frames are awesome when it comes to extra support during breastfeeding. Especially if you have large breasts, they help hold your boobs in place and prevent drooping when your cups are down.
A-frame nursing bras also give you that little bit of extra boob coverage when you are breastfeeding in public. These are my favorites:
Fits sizes 32C to 42I
It's buttery-soft on the skin (like a croissant)
Lightly contoured cup for shape and lift, giving you a nice silhouette under tight tops
Has flexi-wires for extra support
Cotton-lined A-frame sling for modesty
Has smooth lines – great t-shirt bra
3D spacer fabric allows air flow and gives you a cooling effect
OEKO-TEX certified so you know it is free from harmful chemicals
Matching brief available
 What I don't like about it
On the pricier side
There is no busty option for moms with larger breasts
Flexi-wired bras are not recommended for new moms and if your breasts are still fluctuating in size
It's a beautiful lacy bra, perfect to help you feel pretty
Fits sizes 32A to 40E
A wide range of colors available – 18
Has no underwire with a wide lace comfortable under-bust band
Easy drop-down clips quick breastfeeding access
Adjustable hook and eye closure at the back
The cup padding helps protect from nipple show-through and milk leaks but is thin enough to fold easily during breastfeeding
The sewn-in paddings don't need adjusting after washing or breastfeeding
Soft, light, and stretchy lace material that provides support and is comfortable enough to wear all day
Very affordable price
What I don't like about it
The plunging neckline gives you cleavage but your boobs might fall out if you have large breasts
Sizes run small so you might need to order a size up
Not supportive enough for large breasts
Check it out on Amazon
Fits sizes 32C to 42H
it's made of 100% cotton
Wireless but has a thick under-bust band and strong straps for support
lightly lined soft cups to absorb milk leaks and prevent nipple show through
looks smooth under t-shirts and tighter tops
6 hook and eye extensions
beautiful lace detailing helps me feel more like a woman, not just a milk factory
larger cups come with wider straps for added support
What I don't like about it
the full coverage cups come up quite high and can peep over V-necks or low cut tops
Fits size 32D to38G
The cups can be unclipped with one hand making it easier and faster to breastfeed
Has an A-frame sling that supports your breast weight when the cups are down and doesn't leave you exposed
Has a flexible underwire that provides support and doesn't dig in
5 hook and eye options which provides leeway to adjust
It looks really pretty with a lace trim, a little something to help lift your spirits up
Fabric is soft, lightweight and, comfortable
Wide under-bust band for comfort and support with adjustable strong shoulder straps
What I don't like about it
The lace can peep out from low-cut tops and might be also visible under sheer shirts.
Not available in larger sizes
It is a bit pricey
Fits sizes 30D to 40G
Easy one-handed clip down cups
The molded soft cups separates and lifts your breasts
Made of sturdy, light fabric that will last
The flexi-wire provides added support
The contour feature gives you a naturally rounded breast shape
Does not show under shirts
What I don't like about it
The shoulder straps are not wide enough
On the pricey side
Check it out on Amazon
fits sizes 32B to 40K
it's one of the few nursing sports bras around for high impact activities
the combination of flexi-wire and structured cups minimize boob bounce
the molded cups separate your breasts and reduce inter-boob sweat
Wide padded straps to disperse weight
Made of smooth spacer material to reduce friction and wick moisture away from body
Convertible to racerback for extra support
OEKO-TEX certified so you know it's free from harmful chemicals
Matching brief available – Zest Brief
Comes in 3 cool colors
Adjustable with 5 hook and eye options
What I don't like about it
To wrap up
Most nursing bras have side slings but there are a handful of high quality A-frame nursing bras on the market. They are especially useful when you have large breasts and need a bit more support and coverage when your cups are down.
Quick links: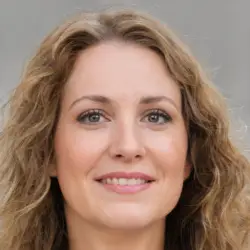 Latest posts by Sharon James
(see all)