Hhmm… what not to wear on the biggest day of your life? Well, definitely not bottom-flashing, scratchy hospital gowns .
Labor and delivery is stressful enough without worrying that your bum is showing. Having the right hospital gown will give you peace of mind, comfort, and that safe homely feeling while looking good all at the same time.
Luckily, most birth suites allow you to wear your own hospital gowns. It's amazing how many specially-designed labor and delivery gowns are on the market. You're spoilt for choice!
These hospital gowns are your best bet:
It is soft, comfortable, and stylish
You can wear it during labor and delivery, as well as a nursing nightgown in the ward.
It has a hidden front panel that allows you to move freely.
The front panel also provides easy access for fetal monitoring.
It has shoulder snaps on both sides which are easy to undo for skin-to-skin contact with your newborn
Snaps at the back to give you prevent unnecessary bum-flashing
The back snaps also provide easy access in case you need an epidural.
A sewn-in adjustable waistline allows for a better fit
The strings on the waistline also hold the gown in a little, giving it a stylish dressy look
100% cotton-jersey material which feels luxuriously soft and is super absorbent
Machine-washable
Caters for most sizes – S/M for petite moms (pre-pregnancy size 2-12) and L/XL for plus-size moms (pre-pregnancy size 12-20)
Comes in 36 bright and cheery colors and patterns
They even come in set with matching pillowcases or matching robe!
What I don't like about it
There are only 2 size options to choose from so it might be hard to find the perfect fit.
The hem length may be a bit short for taller moms
The shoulder snaps can fall behind your back while breastfeeding, making it hard to pull them back up
The strings at the waistline are too long and can get in the way
It's a one-size-fits-all but runs big
This makes it perfect for plus size women or moms carrying twins
Has front panels that fold down to the waist for easier nursing, skin to skin-to-skin contact, fetal monitoring and other medical procedures
Comfy full-length snaps at the back provides privacy when you're pacing the corridors during labor
Soft and stretchy material that is light and comfortable
It has deep pockets to put your phone and other essentials
What I don't like about it
It's too big for more petite women
The fabric is 100% cotton and it's soft and airy
Has front panels that drop-down – great for skin-to-skin contact, nursing, and medical checks
Buttons down the back for easy access in case you need an epidural
Available in soft pastel colors and prints
Comes in sizes S to XL but the sizes run small. It will fit even if you are really petite.
What I don't like about it
The material doesn't stretch
Doesn't fit larger women
The fabric can be a bit stiff when new – wash it and break it in before D-day
Soft, comfortable fabric that cozily hugs your baby bump
Has deep pockets on each side to hold your phone, hanky, pads, or anything else you want
Has Velcro fasteners at the front and back for easy access
Shoulder side slits that drop down easily – great for skin-to-skin contact and privacy while nursing
Comes in sizes S to XXL to fit baby bumps up to 51 inches
It's machine-washable
What I don't like about it
The fabric is relatively thin – you might need to wear a nursing bra underneath
Most stylish labor and delivery gown: Ekouaer Labor Gown
The fabric is super soft and stretchy
There are top-to-bottom buttons at the back that are quick to snap open for an epidural if needed
Openings on both sides of the breasts make it easy for breastfeeding
I looks more like a maternity dress than a labor gown – you can wear it during pregnancy, at the hospital and even at home later.
Available in sizes S-XXL
What I don't like about it
It doesn't open up at the front so you'll need to pull the dress upwards for fetal monitoring.
Made of luxuriously soft cotton that is soothing to touch
Comes with a matching swaddle blanket and a newborn hat – perfect for baby's first Instagram debut
Can be worn during labor and later in the wards as well
Available in 48 beautiful prints!
It's great gift to splurge on either yourself or your friends and loved ones
The sash is attached in perfect position below the boobs, giving you a flattering shape before and after pregnancy
The gown has hidden pockets on each side
Available in sizes S/M and L/XL and 2XL/3XL
What I don't like about it
It's a bit pricey
The front can open up if you're not careful. You would need to wear a cami or nursing bra underneath.
High quality 100% soft cotton material with just the right amount of thickness
Snaps open at the front and drop down for skin-to-skin contact and breastfeeding
Snaps run down the back for easy access in case you need an epidural
Short cup sleeves that are roomy and comfortable
Durable and strong material that can be machine-washed and dried
Fits sizes S, M, L, and XL
Great value-for-money
What I don't like about it
Snaps at the back can become undone when bending or sitting
To wrap up
Whatever your preferences, there are plenty of affordable labor and delivery gowns to choose from. There is no need to sit in an uncomfortable hospital-issued bottom-flashing gown on one of the most important days of your life.
The Baby Be Mine Hospital Gown was the best overall for ticking all the boxes – comfort, functionality and value-for-money. If you are splurging, buy the matching pillowcase or robe set. If you're on a budget, the Utopia Care Gown is a very comfy option. Or you could even buy the Ekouaer Gown which you can wear for a much longer time.
You might also be interested in what to wear home from hospital after giving birth.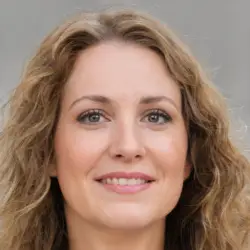 Latest posts by Sharon James
(see all)