What do all moms with young kids have in common? Lack of sleep.
What does lack of sleep cause? Dull, tired skin. Yes, I feel your pain.
Thankfully, there is the magic of makeup. But if you have a cool skin tone and you're using the wrong makeup, this can make your face look even more washed out.
Here are some makeup tips for moms with cool skin tones to help you look awake and energetic when you're actually not.
But first, let's look at some basics:
What is skin tone?
Your skin undertone (or more commonly referred to as skin tone) are the colors that come through your skin to affect its overall hue. It's not about how light or dark your skin color is, but rather whether you have a cool, warm or neutral skin tone.
Women with cool skin tones tend to have a bluish, pinkish complexion – like the woman in this photo.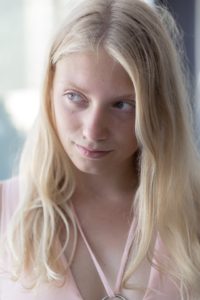 How do I know if I have a cool skin tone?
There are quite a few ways to determine what kind of skin tone you have. My favorite way is to compare if you look better with silver or gold jewelry. Cool undertones are flattered by silver or platinum jewelry.
If you have a cool skin tone, you will sunburn easily and your veins will appear bluish or purplish. You also look better in white compared to cream-colored clothes.
Principles of cool tone makeup colors
Now that you know you have a cool skin tone, some makeup principles to stand by are:
Use blue-based lip, cheek and eye makeup. Avoid yellow-based makeup at all cost as they will make you look sallow and sick.
Pink-based or neutral foundations will suit your skin tone best.
Avoid golden-toned bronzers but instead, favor bronzers that are neutral or has a shade of pink.
A makeup routine for tired moms with cool skin tones
I have used one of Zabrena's awesome makeup tutorials to help you brighten your tired face up.
Zabrena is a YouTube beauty and fashion vlogger who has been making Youtube videos since 2011. She is 37 years old with 2 children so she definitely knows a thing or two about 'tired mom skin' makeup.
As you can see, she has a fair, pinkish, cool skin tone. Looking at her pre-makeup face, it really did look like she hadn't slept the night before. Her post-makeup transformation is amazing to watch.
Moisturizer for tired skin
She starts off with Paula's Choice Skin Balancing Solution. I personally think moisturizers are key for hydrated skin but some women prefer face oils. If you're not sure if you should choose a face oil or moisturizer, read this article.
Check it out on Amazon
Primer to illuminate tired skin
Zabrena didn't use a makeup primer but I thoroughly recommend using a luminous makeup primer as it really helps to give your tired skin a glowy look. One of my favourites is The Illuminator by Estee Lauder.
Check it out on Amazon
'Cool toned' eye makeup
For her eyeshadow, Zabrena used the Too Faced Chocolate Bon Bons Eyeshadow Palette. This palette has some lovely 'cool-toned' eyeshadow colours and smells of chocolate! As you know from my article on building your own basic makeup kit, I am a massive fan of Too Faced eyeshadow palettes.
Suprisingly, Zabrena didn't use any eyeliner at all as it emphasizes the fact that she had not slept. Instead, she puts on Inky Minky 'White Lie' lashes to open her eyes up. I don't know if I have the patience to apply lashes when I'm already sleep-deprived. Interesting fact: Inky Minky Lashes was created by Zabrena herself and named after her beloved black cat, Inky, who passed away a few years ago.
I'm a big eyeliner fan but only on the upper lids, not the lower lids. My favorite eyeliner is the Maybelline Curvitude Liquid Eyeliner for an easy cat-eye. It's cheap but outperforms any expensive eyeliner you can find.
If you already have large, deep set eyes, then skip the eyeliner when you are tired to avoid pushing your eyes even deeper and accentuating your under eye circles.
Groom your eyebrows for youth and vitality
With her brows, Zabrena used NYX Micro Brow Pencil in Auburn. Thick, well-groomed eyebrows are a sign of youth and vitality. So make sure you fill your brows in as naturally as you can, following your natural arch. Don't overdo it as overdrawn eyebrows actually make you look older. One trick is to look back at your old pics from your early 20s and try to make your eyebrows look like that again.
Concealer and foundation for cool skin tones
For her under-eye circles, she applied a Burberry Cashmere Concealer with a Beauty Blender. If you haven't tried these makeup sponges, you need to. The one I use is from Real Techniques. It's a lot cheaper than the original Beauty Blender but works just as well.
Zabrena used Kevyn Aucoin Sensual Skin Powder Foundation in Shade PF  01. There are quite a few different shades in the range to suit your exact skin tone. The foundation actually reflects light and helps your tired skin look more radiant and youthful. On tired days, any little help is very welcomed. 
Blush to perk up your tired face
It is amazing how you can fake rosy cheeks and vitality with some well-applied blush! Zabrena used the Eve Pearl Sweet Cheeks blush. My personal favourite is the MAC Powder Blush. MAC Peaches blush would suit most women will cool skin tones but there are 17 colors to choose from!
Lipstick to cheer you up
There is nothing like lipstick to perk up a washed out complexion. If you only have the energy to apply one makeup product, let it be lipstick. In the video, Zabrena finished up with a Rimmel Exaggerate Lip Liner (she said Addiction but I think she meant Exaggerate) and a Marc Jacobs New Nudes Sheer Lip Gel.
But really, any blue-based or cool-toned lipstick would do. Pick a color from your favorite brand which is just a little bit more radiant than your lip color and you'll look naturally beautiful 🙂
Check it out on Amazon
Bronzer for cool tones
If you watched the video, you would have seen that Zabrena didn't need a bronzer to look great but if you are a fan of bronzers, Benefit Hoola Lite Matte Bronzer and Tarte Amazonian Clay Matte Waterproof Bronzer in Park Ave Princess might suit cool-toned women better due to their pinkish undertones.
To wrap up
There you go, some makeup tips to help you look perky and awake on those tired days when you wish you could crawl right back into bed. Looking good is half the battle won! The main thing to remember is to look as natural as possible and not overdo the makeup.
Do you have any tips for other cool-toned women? Share it with us in the comments below 🙂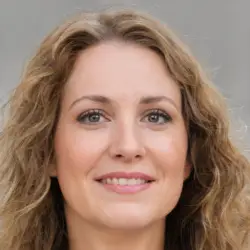 Latest posts by Sharon James
(see all)