This article was first published on the 7th of August 2020 and updated on the 14th of June 2021.
There is nothing worse than being sleep-deprived. EXCEPT looking sleep-deprived.
The last thing you need when you feel like crawling back under the covers is to have someone ask 'are you sick'?
Thankfully, makeup has come a long way and the ability to fake being awake is available to all women out there.
But if you have a warm skin tone and not using the right makeup, it can make you look and feel even worse.
Here are some makeup tips for moms with warm skin tones to help you look more awake and energetic when you're actually exhausted.
But first, let's look at some basics.
What is skin tone?
Your skin undertone (or more commonly referred to as skin tone) are the colors that come through your skin to affect its overall hue. It's not about how light or dark your skin color is, but rather whether you have a cool, warm or neutral skin tone.
Women with warm skin tones tend to have a yellow or golden undertone, like this woman.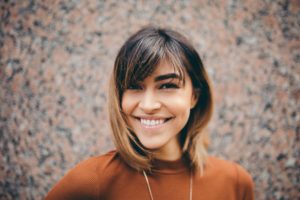 How do I know if I have a warm skin tone?
There are quite a few ways to determine what kind of skin tone you have. My favorite way is to compare if you look better with silver or gold jewelry. Warm undertones are flattered by gold jewelry.
If you have a warm skin tone, you will tan easily and your veins will appear greenish. You also look better in cream compared to white-colored clothes.
Principles of warm tone makeup colours
Now that you know you have a warm skin tone, some makeup principles to stand by are:
Use warm toned eye shadow, lip and cheek colors (we'll go through them below). Avoid blue-based makeup as you will look artificial.
Yellow-based foundation and concealer will suit warm skin tones best.
Bronzers applied the right way will give you a sun-kissed radiant look
A makeup routine for tired moms with warm skin tones
Andrea Ali is one of my favourite makeup artists to follow. This video is slower-paced compared to some others but I really like how she explains why and how to use a makeup product the best way.
For those of you who don't know her, Andrea is a 36 year old makeup artist based in Paris and has been sharing makeup tutorials on YouTube since 2015. She has more than 800k subscribers! Check out her YouTube channel.
In this video, Andrea shares her makeup routine for those days when she hasn't had enough sleep.
Prepping tired skin
Andrea starts with pre-prepped skin. She used a facial serum, mask and moisturizer. Check out the Clarins Double Serum for tired skin days. It has 20 anti-ageing plant extracts to help your face look more radiant.
She also shares that she did a facial massage prior to the video. This article has some great facial massage techniques you can do for yourself at home. She says some models swear that dunking their face in a bucket full of ice for 30 seconds wakes their skin up immediately. Most of us probably don't have time in the mornings to do a face mask and facial massage. Most of us also probably wouldn't dunk our face in ice buckets. Just quick, painless makeup for me thanks.
Luminizing primer to fake radiant skin
Andrea uses a luminizing primer; the Giorgio Armani Fluid Sheer Primer but it's quite pricey. Luminizing primers reflect light and make our face look more glowy. My favorites are much cheaper; NIOD Photography Fluid Opacity 12% ( a little goes a long way!) and The Illuminator by Estee Lauder.
Check it out on Amazon
Concealer for undereye circles and to cover blemishes
Andrea then uses the Tarte Shape Tape Concealer in Light Medium for her under-eye circles. The Tarte Concealer is really thick so use sparingly. She also recommends the Clinique Beyond Perfecting Concealer in apricot if you have very dark under-eye circles.

Hydrating foundation to even out skin tone
Andrea did not use foundation but I like to use a light coverage foundation to help my skin look naturally flawless but not too made up. Having tried a few, my current favorite is the Bobbi Brown Skin Foundation. Just apply and blend with your fingers. It disappears into your skin.
Blush to fake rosy cheeks
Andrea's strongest recommendation was to apply blush to fake rosy cheeks. She recommended Shiseido Whipped Powder Blush in Sonoya 01 which feels like a cream but goes on as a powder. Check out her blush application skills! (For those of you who are super busy, it starts about 6 minutes into the video).
Groomed eyebrows make you look younger
She also talks about how important having eyebrow makeup is but didn't go into detail. Thick, well-groomed eyebrows are signs of youth and vitality. So make sure you fill your brows in as naturally as you can, following your eyebrow arch.
Be careful not to overdo it as overdrawn eyebrows actually make you look older. One trick is to look back at your old pics from your early 20s and try to make your eyebrows look like that again.
Warm-toned eyeshadow
Andrea skipped the eyeliner and went with eyeshadow instead to make her eyes look brighter. She used the Il Makiage Color Boss Squad Eyeshadow Palette.
This was followed by the NARS Climax Mascara to open up her eyes.
My favorite eyeliner is the Maybelline Curvitude Liquid Eyeliner for a quick cat-eye. It's not only cheap but outperforms any expensive eyeliner you can find.
Face Powder if you have oily skin
Andrea used the Laura Mercier Translucent Loose Setting Powder under her eyes to set the concealer and in her nose crease to prevent oil build-up later on in the day.
If you have dry skin, you can skip this step. Applying face powder on dry, tired skin tends to make it look worse rather than better.
Lipstick cheers everyone up
With your lips, Andrea advises to use a lipstick color that is just a little bit more vibrant than the color of your lips. In the video, she used the Kat Von D lipstick in Lolita.
Check it out on Amazon
Bronzer for a sun-kissed healthy look
At the end of the video, Andrea gave a few more options for those of us who want more. She suggested the Il Makiage Mineralized Bronzing Powder in Waka Waka for those who want to contour and bronze.
Highlighter is my favorite tired skin trick
She also recommends the RMS Magic Luminizer highlighter. Using a highlighter is my number one secret for my dull skin days. One of my budget favorites is the Loreal Paris Magic Lumi Primer. It's technically a primer but IMHO it works better as a subtle highlighter.
Setting spray – not compulsory but adds to skin luminosity
Andrea finished with a MAC Prep +Prime Fix Spray. I don't usually use setting sprays but it can help your skin look more dewy and luminous.
To wrap up
I hope you enjoyed the video and makeup tips to help you look energetic and radiant on those zombie days. The main thing to remember is to look as natural as possible and not overdo your makeup. If you want to know how to build a basic makeup kit, read this article.
Do you have any tips for other warm-toned women? Share it with us in the comments below.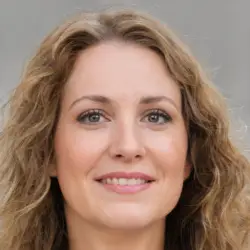 Latest posts by Sharon James
(see all)