Wearing makeup can give you a boost in confidence and help you be more sensual. Everybody loves a good makeup kit that works. But building a good makeup collection that is perfect for you can be intimidating and expensive, especially when you are a busy woman with no time and a limited budget for 'trial and error'.
With millions of products popping up constantly on physical and virtual shelves, where do you even begin to look?
You want to make sure you are not wasting money and space on products you won't or don't use. A makeup product has to earn its place in your makeup arsenal.
I've rounded up a fool-proof list of the best makeup products to fit your needs, most of which I use myself. The products I recommend in this article multi-task, lasts through the day and are not expensive, all super important features for busy women.
So let's dive right in!
A good face moisturizer
Why is face moisturizer important?
I cannot stress enough the importance of moisturizing your face before you put on any other kind of makeup. It hydrates your skin, smooths your skin surface and forms a good base for foundation and concealer to stay on longer.
Who needs face moisturizer?
Everyone, especially when you are starting to have fine lines and wrinkles. Even if you have oily skin, you can't skip moisturizing because it helps regulate oil production.
Who doesn't need face moisturizer?
Everyone needs a good face moisturizer. The trick is in choosing one that fits your skin type.
Special tip:
If there is one thing more important than moisturizer for hydrated skin, it's drinking enough water every day.
Further reading: Face oil vs Face Moisturizer: How to choose the Best Product for my skin Type
Buy from Amazon
SPF 30+ Sunscreen
Why is sunscreen important?
Sunscreen protects your skin from UV radiation. It not only helps prevent skin cancer but also helps maintain youthful skin, even skin tone, and prevents wrinkles. Need I say more?
Who needs sunscreen?
Everyone. No exception. And you should use sunscreen with at least SPF 30+.
Who doesn't need sunscreen?
If  you are using a moisturizer that also doubles up as a sunscreen with at least SPF 30+, you don't  need additional sunscreen.
Special tip:
Sun protection doesn't only involve sunscreen. Sun protective clothing like hats and sunglasses are important too.
A face primer that suits your skin needs
Why is face primer important?
If you want your makeup to stay put through the day, a primer works like magic. It not only creates a smooth and flawless base but also makes foundation application a whole lot easier.
There's a primer for every skin type and concern. There are illuminating primers, mattifying primers, colour-correcting primers, hydrating primers and lots more. The right primer will minimize the appearance of fine lines, wrinkles and imperfections.
Who needs face primer?
Anyone who wants to have the appearance of smoother skin and have longer-lasting makeup.
Who doesn't need face primer?
Women with flawless youthful skin (I'm jealous!)
Special tip:
Choose a face primer that specifically targets your skin issue, otherwise it is a wasted step in your makeup routine.
A small tube of eyeshadow primer
Why is eyeshadow primer important?
When applied to your eyelids, eyeshadow primer make eyeshadows and eyeliner go on smoother and last longer.
Who needs eyeshadow primer?
Women whose eyelids get oily throughout the day and you find that your eyeshadow creases or doesn't last very long.
Who doesn't need eyeshadow primer?
If your eye makeup stays on just fine for the day, you probably don't need an eyeshadow primer.
Special tip:
Less is more with eyeshadow primer. Too much primer won't dry properly and will cause your eye makeup to slide around.
The right foundation
Why is foundation important?
Foundation is exactly what its name suggests. It is the base upon which you will build your entire makeup look. Your foundation is the key to getting flawless looking skin (after your skincare routine). Using the right foundation will change your whole look but it's also the hardest thing to get right when it comes to your makeup routine.
Who needs foundation?
Anyone who wants to cover-up uneven skin tone or blemishes and those who want to create a flawless base for their makeup look.
Who doesn't need foundation?
If you have even skin tone and smooth dewy skin, you can probably skip foundation
Special tip:
Apply foundation with a beauty blender (we like this one from Real Techniques) in bouncing motions to avoid a streaky look.
A good concealer
Why is concealer important?
Blemishes and dark spots can still peak through even the fullest coverage foundations. Whether you want to cover blemishes, redness, or dark under eye circles, concealer is your answer. Makeup artists always apply concealer as most swear it is the key to achieving a professional finish.
Who needs concealer?
Women who want to cover up small areas of redness, scarring, blemishes or zits. Concealer is also good for brightening under-eye circles.
Who doesn't need concealer?
If you have a big area on your face that you want to cover up, using a thicker foundation would look more natural than trying to apply concealer to such a large area.
Special tip:
Choose a concealer that is less than 2 shades lighter than your foundation for under-eye circles and the exact same shade as your foundation to cover blemishes on the rest of your face.
A contouring palette or bronzer
Why is contouring important?
Contouring is a makeup technique to define, enhance and sculpt the structure of your face. Contour palettes consist of a few different shades so you can achieve a more natural look.
Who needs to contour?
Women who want to enhance or change the shape of their face with makeup or if you are a Kim Kardashian fan.
Who doesn't need to contour?
Asian women and anyone who doesn't have time in the morning to contour well.
Special tip:
There is a fine art to contouring which is well worth learning as going overboard or using the wrong techniques can make you look older and unnatural.
A non-shimmery highlighter
Why is highlighting important?
Highlighter is my favourite product after moisturizer! Highlighting can bring a natural shine to your face. Just make sure you apply highlighter to the right places like your bridge of nose, tops of cheekbones, cupid's bow and just below your eyebrows.
Who needs to highlight?
Women who have tired skin or want to achieve that youthful glowy look.
Who doesn't need to highlight?
Women who naturally have youthful glowy skin.
Special tip:
If you want a glowy base, mix a smidge of liquid highlighter in with your foundation before you apply it on your face.
A natural blush
Why is blush important?
When blush is applied correctly, it can instantly lift up your face and give you that gorgeous, youthful glow. The trick is to choose a colour that complements your skin tone and keep it light for a natural look.
Who needs to use blush?
Women who are looking for a healthy rosy glow. Blush can make your skin look flushed as if you just spent an hour at the gym, no kidding!
Who doesn't need to use blush?
If you are already using a bronzer, don't add blush on top.
Special tip:
Use the 'build and blend' technique until you get the colour you are looking for. It is much easier than trying to take excess blush away.
A versatile eyeshadow palette
Why is eyeshadow important?
Most women know the importance of eyeshadow in giving oomph to the eyes and making them look more expressive. Eyeshadow can add depth and dimension, complement your eye colour and make your eyes appear larger. You can also get everything in one go with an eyeshadow palette.
Who needs to use eyeshadow?
Women who want their eyes look more attractive.
Who doesn't need to use eyeshadow?
If you are in exercise clothes all day, eyeshadow is probably over-kill.
Special tip:
If you want to intensify your eyeshadow colour, pick up the colour on a small brush then mist it with a water mist before applying.
Eyeliner of your choice
Why is eyeliner important?
Eyeliners are great to enhance and beautify your eyes. Women used to only use black kohl pencils but now there are so many options to choose from, including pencil, liquid or gel liners.
Who should use eyeliner?
Women with hooded or small eyes who want to make their eyes look more defined.
Who doesn't need to use eyeliner?
If you want a softer smokey eye or a more youthful fresh look, skip the eyeliner. Some women have taken to using eye shadow smudged softly into the lash line or just sticking with mascara.
Special tip:
If you have monolids (hooded eyes), apply gel or liquid liner a little thicker than you think you need. When you open your eyes, you'll actually be able to see the line.
Black or brown mascara
Why is mascara important?
Mascara is used to lengthen, thicken, darken and intensify your natural eyelashes. It can instantly amp up your lashes and miraculously make you bright-eyed in the morning. Mascara usually comes in black or brown shades to darken the lashes but you can also find it in fun shades like blue and purple now.
Who needs to use mascara?
Anyone who wants an easy way to have longer, thicker eyelashes.
Who doesn't need to use mascara?
If you have naturally thick long lashes or you have fake lashes, you can skip mascara.
Special tip:
Do not pump the mascara wand into the tube as this will introduce air and bacteria. Your mascara will dry out faster and you put yourself at higher risk of infection. Instead, twirl your mascara wand lightly upward to distribute product equally over the wand.
A complete brow kit
Why is a brow kit important?
Eyebrows can make or break your overall look! If they are too thin, they can make you look old and washed out. If they are too thick, they can drown your eyes. To fill and shape it, your answer is a brow kit. Brow kits usually consists of an eyebrow pencil, powder or even brow mascara. It is absolutely necessary to pull off beautiful, perfectly-defined eyebrows.
Who needs to use a brow kit?
Errmm… anyone with eyebrows, especially if they have become sparse with age.
Who doesn't need to use a brow kit?
Women with very bushy thick eyebrows who don't need any more filling or shaping.
Special tip:
Don't' choose a black brow pencil even if you have raven black hair as your brows will look too dark and intense. Go for dark brown to look more natural.
Face powder
Why is face powder important?
The most important reason to use face powder is to help your foundation last longer. It can also even out your skin tone, absorb excess shine and fix makeup mistakes like excess blush.
Who needs to use face powder?
If you have oily skin, using face powder will help your makeup last much longer, especially in summer.
Who doesn't need to use face powder?
Women with dry skin. And I find it unnecessary in winter, even with my oily face. Face powder also likes to settle in wrinkles and make it more pronounced so be careful not to cake it on.
Special tip:
Choose a face powder that also illuminates and voilà 2 steps in 1!
A good lipstick shade or two
Why is lipstick important?
A good lipstick shade can not only help brighten up your face but also prevent it from looking washed out. And when it comes to lip colour, the choices are infinite.
Who needs to use lipstick?
Everyone should have a good lipstick shade or two in their makeup kit.
Who doesn't need to use lipstick?
If you are not a fan of eating lipstick (because a lot of lipstick gets ingested!), you could opt for a non-toxic lip-balm or lip-oil.
Special tip:
Using a lipliner will keep your lipstick from bleeding into the fine lines around your mouth.
A basic set of makeup brushes
Why are makeup brushes important?
Not everyone needs or wants makeup brushes. But if you are a fan of makeup brushes, you only need a few basic ones. Having said that, buying a basic makeup brush set rather than individual brushes is probably the cheapest way to go.
The basic makeup brushes that you might need are:
A flat concealer brush
A fluffy face powder brush
A blush brush
A highlighter brush
A brow blush
Eyeshadow brushes of various sizes
Who needs to use makeup brushes?
Anyone who feels more comfortable applying their makeup with brushes
Who doesn't need to use makeup brushes?
Anyone who is more comfortable applying makeup with their fingers. Having said that, a concealer brush would help with control and precision while a brow brush does wonders in making your brows look groomed.
Special tip:
Pay attention to bristle length. Longer bristles will give you a softer application and coverage while shorter bristles give you a more intense, matte coverage.
Other makeup kit essentials
Q-tips to remove inevitable mistakes
Beauty blender to blend blend blend!
To wrap up
I hope this full makeup kit list was useful for you to help guide what products you need and what you could do without. You can see that making your own basic makeup kit isn't hard or expensive. In fact, it is quite fun!
See what makeup other people are buying on Amazon
Remember, makeup is meant to enhance your natural beauty, not cover it up. You really only need a bunch of essentials to play around with different looks. It takes a bit of experimenting but once you find the look that works for you, stick to it.
If you have tired skin and want to know how to use makeup to look more awake and energetic, read:
Makeup to brighten your face (for women with cool skin tones)
Makeup to look less tired (for women with warm skin tones)
Did you find this article helpful? Is there anything I have missed that you think is important to build your basic makeup kit? Let me know in the comments below.
If you want to be more sensual and regain your sexual confidence, sign up to my newsletter for regular updates on my latest articles.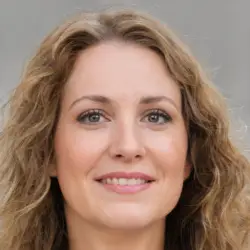 Latest posts by Sharon James
(see all)