Most people know their pre-pregnancy size by heart but your maternity size is ever changing. Fortunately, choosing the right size for your nursing tank is no where as hard as finding the right sized nursing bra.
Nursing tanks come in sizes such as small, medium and large. If you are in early pregnancy and expect to gain some weight, buy one size up. However, if you are towards the end of pregnancy or already breastfeeding, buy in your current size.   
Let's do a deep dive:
How do I know what nursing tank size to buy?
The average woman gains 25 to 35 pounds during pregnancy. Amazingly, after labor, you lose a whopping 13 pounds just by delivering the baby, placenta and amniotic fluid. Unfortunately, from then on, it's a slow journey back to 'normal' for most moms.
The protective tissue (fat) that you gained during pregnancy doesn't disappear overnight and it can take up to 1 year for you to get back to your pre-pregnancy weight, regardless of whether you are breastfeeding or not.
Keep this in mind when you're deciding on your nursing tank size. Nursing tanks are extremely stretchy and forgiving tops. However, if you buy a small when you should have bought a medium, it will feel uncomfortably restrictive. The opposite is true too. If you over-estimate how much weight you'll gain during pregnancy and buy a tank that is too large, it will swim on you and move around.
It doesn't help that all maternity brands have their own version of small, medium and large. Each brand also has their own size chart. Some charts refer to your clothing size while others refer to your bra size. Some even refer to specific measurements of your bust and waist.
The Cake Maternity Toffee Nursing Tank size chart:
Buying a nursing tank in early pregnancy
Even if this was your first pregnancy, you can sort of guess roughly how much weight you will gain by asking your mom and sisters about their pregnancies. If you put on weight easily before pregnancy, there is a good chance you will go up more than a size or two during pregnancy as well.
If you think you won't gain much weight beyond expected baby weight, buy in your pre-pregnancy size. However, if you think you will put on some weight, it's a good idea to buy a size up.
These HOFISH long-line nursing tanks will stretch over the biggest baby bumps throughout pregnancy:
Check it out on Amazon
Buying a nursing tank towards the end of pregnancy or during breastfeeding
If you are towards the end of pregnancy or already breastfeeding, buy in your current size. You would have gained almost all of your pregnancy weight by the third trimester and will in fact lose a significant amount of weight once your baby is born.
The Cake Maternity Tofee nursing tank has a light 'compression feel' but isn't really a tummy-control tank and is safe for pregnant bellies:
Check it out on Amazon
How to measure yourself for a nursing tank?
If you are buying a nursing tank with built-in bra, then you will need to buy based on your nursing bra size. Just use the same measurements as your nursing bra. If you need to measure yourself for a nursing bra, I have an in-depth article on how to size a nursing bra. It will work for nursing tanks too.
For an outerwear-type nursing tank with a looser fit, knowing your clothing size is generally enough to guide you on the best nursing tank size to buy. For example, if you are a US 2-4, you're a small, and if you are a size 6-8, you're a medium. If you fall in between sizes, buy the larger size.
What is the best fit for a nursing tank top?
Depending on your preferences and type of nursing tank you are buying, your top can either fit snugly or be loose-fitting.
If you are buying a nursing tank with the intention of wearing it under clothing, then choose a stretchy one with a tighter fit like this Daisity Nursing Tank:
Check it out on Amazon
Some moms like compression nursing tanks with tummy control to give them a better sillhoute under clothes. These tanks need to be super snug and form-fitting to work. Bear in mind, they are not recommended while you're pregnant. Light 'compression feel' ones like the Cake Maternity Toffee Nursing Tank are fine to wear during pregnancy but real tummy-control tanks like the Belly Bandit Mother Tucker Nursing Tank is purely post-partum wear and should never be worn while pregnant.
Check it out on Amazon
If you are planning to wear the nursing tank by itself, then a loose fitting one is more comfy and hides more post-partum bulges. Just make sure it's not so loose that the breast access flaps are not at the right level.
Check it out on Amazon
It's best to have a few types of nursing tanks with a variety of fits so you can mix and match as you like.
To wrap up
A well-fitting nursing tank is one that fits snugly without being too tight. It is so important to start with the right size nursing tank so that your breastfeeding journey goes smoothly and you are happy with what you wear day in and day out. Just make sure you check out the individual size charts since they even vary from tank to tank sometimes.
If you are interested in more nursing tanks and camis, read my review of the best ones on Amazon.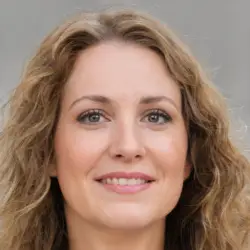 Latest posts by Sharon James
(see all)