Life after babies is hard to say the least. Exhaustion, lack of sleep, lack of alone and couple time are only some of the problems plaguing moms. Your self-esteem also takes a hit, for at least 3 years after delivery.
What is the end result of all this? A woman who only identifies herself as a mom, who doesn't see herself as a sexual being anymore.
But even if you wanted to, how would you transform from efficient do-it-all mom to sex kitten the moment you close the kids' bedroom door? You don't.
Like sensuality, sexuality is a way of life. Sexiness isn't something you turn on like a tap on demand. You have to live it, infuse your life with it!
Not only would feeling sexy improve your sex life and relationship with your husband, its benefits spill into every other part of your life. Regaining your sexual confidence will help you feel happier, be more self-assured and have more life satisfaction. It will even make you a better mom!
There are four essential elements to building sexual confidence; having a sexy mindset, taking care of yourself (self-care), paying attention to your appearance and weaving sexual habits into your life.
Having a sexy mindset
Sexy isn't a size or a shape, it's a mindset' – Heather Quisel
It doesn't matter what size or shape you are, or what your age is. Sexual confidence is about how you feel and think about yourself and your body. More than anything, having a sexy mindset is the cornerstone of increasing sexual confidence.
Positive self-talk and affirmations
Look at yourself naked in the mirror every day. But instead of focusing on your perceived flaws, focus instead on what you like about your body.
Give yourself at least one compliment every day. The stories you tell yourself shape your life. If you keep emphasizing the positive aspects of your appearance and personality, you will start to see yourself and your body as beautiful and attractive. And sexual confidence will automatically follow.
If you have 'unhelpful' thoughts about yourself or your body, try a technique called reframing to change your self-perception.
Know your worth
Don't look to external factors to validate you. From childhood, we look to our parents, peers and now to our partners to give us their stamp of approval but sexual confidence is something you build inside.
You need to know you are sexy enough and attractive enough before anyone else can think so.
Stop comparing yourself
Stop comparing yourself to others, especially not to young 20-year-olds and air-brushed Instagram models. Stop trying to be someone else.
What do all attractive women have in common? They have their own special style or 'je ne sais quoi' that other women can't copy. So just be you.
Practise self-compassion
Accept that you're older and your body has changed after kids. Accept that you are imperfect but you are beautiful because of your imperfections.
Accept that you are tired. It is OK. This is only another phase in your adventure of life.
Try to think of yourself as you would your best friend. You wouldn't say unkind words to her, so why would you say them to yourself? Practise self-compassion.
Stop pressuring yourself
There is no deadline. You don't have to start having sex like rabbits again 3 months after delivery. You don't need to orgasm every time. You don't need to make your partner come every time.
Sex isn't something to put on the to-do-list, sex is something to enjoy – Sharon James
Don't pressure yourself about needing to feel sexy all the time and needing to be in the mood for sex on demand. The harder you try, the harder you fall when you feel you have 'failed'.
There are days when leaving your hair uncombed, wearing sweats and eating chocolate fudge ice-cream is the best thing you can do for yourself.
Stop trying to read your partner's mind
Trying to be a mind-reader is a recipe for disaster, especially if you are already in a low mood and looking for signs of relationship trouble. Stop thinking that your husband doesn't find you attractive anymore or worse, that he doesn't love you anymore because of how your body has changed.
Give your husband or partner the benefit of the doubt and know that he is there, waiting for you to be open to his advances again.
Focus on enjoying life again
Stop worrying about your body and start focusing on enjoying life. When you feel good about yourself and you're open to life and all its joys, you are attractive and sexy.
Your sensual aura will project onto your husband and he will be drawn to you.
When you start laughing again, you will start taking things less seriously and be less sensitive. After my first delivery, we used to laugh that my breasts would leak milk during sex. At a time when our relationship was at its most strained and sex was painful, laughing helped us both feel better.
Change your thoughts about sex
If you think of sex as 'giving' to your husband and him 'taking' from you, you'll feel sex is another burden on your shoulders. At a time when you have nothing more to give, this can be a big turn off.
If you reframe sex as a treat for you; that you're the 'taker' as well, then you're more likely to look forward to sex. And of course, the more sex you have, the more sexually confident you will be.
Take your power back
I am a big supporter of taking charge of your life. You need to stop giving excuses to yourself about why you don't feel sexy.
If it's your body, sexual chemistry has nothing to do with how your body looks. Supposedly 'fat and ugly' women get laid all the time.
If it's time, make time.
If it's lack of energy, stop wasting your energy on non-important stuff. Find ways to rediscover your zest for life.
In short, stop being a passive observer of your life and take charge. Take responsibility for your own wants and needs.
Control your fear and anxiety
Up to 75% of new mothers experience baby blues after delivery. Up to 15% of these mothers will continue on to develop postpartum depression which last up to a year after delivery.
Hormonal changes, coupled with sleep deprivation and the overwhelm of taking care of a new baby sends some mothers into a vortex of dark thoughts. Try to challenge some of your fearful thoughts. Accept that they are there but that they are just thoughts and will only have power over you if you let them take over.
However, if you find that your thoughts and emotions are too overwhelming for you to manage by yourself, please seek medical help.
Seek external support
If you find the unhelpful thoughts you have about yourself and your relationship too ingrained and you are unable to shift your mindset by yourself, counselling and psychology sessions can help. You can do this alone or with your husband.
Some women find support groups very helpful too. There are countless local support groups and online mommy groups that can serve as a sounding board for you to vent. Use them to seek support from others who are in the same boat or have been through what you are experiencing now.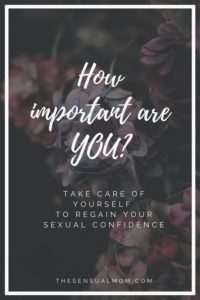 Taking care of yourself (self-care)
How important are you to yourself? So many women, especially when they become moms, put self-care on the back-burner. As your to-do-list gets longer, your personal needs get bumped down the list. Is it any wonder that you are burnt-out and looking blah?
Have enough rest and good quality sleep
This is obviously easier said than done and I am the worst when it comes to prioritizing rest. But when I find myself on the fast track to stress-town, I take a step back, forget about anything non-urgent on my list, and take some down time to reflect and recalibrate.
Other than the obvious benefits of having enough rest and sleep, have you ever seen a stressed-out sexy woman? Stress and sexiness don't exist in the same realm.
Take time-out for 'woman time'
As hard as it is to entertain the thought of leaving your baby that first time, time-out away from your family is important for you to continue being a good mom and wife.
Do something just for you. Going away on a girls' weekend or even just an outing with your friends (sans kids) can do wonders for your outlook on life.
Lose weight if you think you need to
I am not a supporter of 'thinner is better' but if you have put on some extra pounds post-kids and feel that you need to lose a bit of weight in order to feel better about your body, go for it.
Just make sure that you lose weight in a healthy, sustainable way with a balanced diet and active lifestyle.
Exercise regularly
There's enough information out there about the wonderful benefits of exercise. But did you know that exercising can also help you feel sexy?
Sweating releases endorphins, giving you a natural high. In fact, research shows exercise can increase sexual arousal in women.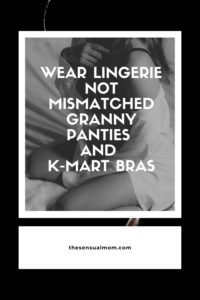 Pay attention to your appearance
Give your appearance some attention. A little grooming goes a long way with your physical appearance and also your self-confidence.
Reassess your look
Has it been awhile since you had a new hairstyle? Are your roots showing? Is your makeup still working for you? Are your clothes dated and frayed? Are your nails kept clean and tidy?
If you can afford it, a makeover does wonders for your self-confidence. But you don't need expensive makeovers and spa treatments. Just take a fresh look at yourself and see if there is anything you would like to change. Then change it.
Wear good quality clothes
Only teenagers and young 20-year-olds get away with wearing 5 dollar boob tubes. When you're an adult, dress like one. Wearing poor quality clothes will make you feel drab. If you want to feel sexy and confident, buy and wear good quality clothes that suit your style and body type.
No money for expensive clothes? Good quality does not equate expensive. And if you stop buying 'fast fashion', you'll only need a few new items of clothing a year to supplement what you already have.
Go for fabrics like silk and cashmere that feel oh-so-luxurious on your skin. Buy clothes you can wear comfortably. Despite what the Kardashians say, sexy clothes don't have to be body-con and all-revealing. Less is definitely more when it comes to sexiness.
Wear sexy lingerie
Wear lingerie, not mismatched granny panties and K-mart bras.
Wear lingerie for your pleasure, not anyone else's. Even if no one ever sees what you are wearing underneath, you know. And your little secret will make you feel more confident and sexy.
There are plenty of affordable, sexy and comfortable lingerie around. Buy new ones if your old ones don't fit your style anymore. Be adventurous. Go for lacy racy ones and luxurious fabrics like lace and silk. You could even go commando if you feel like 😉
Women with large breasts are often envied by other less-endowed women. But large breasts comes with issues of its own. Read How to Solve Problems Associated with Large Breasts if this is you.
Want to up your game in the underwear department? Read the Best Panty Style for your Bum Shape.
Breastfeeding moms need to feel good too!
Put on makeup
There are some women who swear not washing their face with soap and slathering olive oil every day gives them all the natural glow they need. For every other woman, makeup is an essential part of looking well-groomed.
I am a fan of the 'natural-look' but this look is achieved with a luminous primer, good foundation, and a hint of blush. You might have a different makeup preference. Whatever your style, makeup makes a huge difference to your physical appearance and confidence.
If you need help with putting together a good makeup kit, read this article for some special tips.
Wear a signature scent
Have you ever passed a random man or woman on the street and did a double-take because of the perfume they were wearing?  All of a sudden they looked a lot more attractive than you first thought. That is the power of scent.
Not sure how to find your signature scent? Read this brief guide by a fragrance expert.
Use sexy body language
Practise good posture. Even just standing with your back straight and your head held high will automatically increase your self-confidence and energy.
If you haven't seen it already, watch this inspirational TED talk by Harvard psychologist Amy Cuddy about how your body language shapes who you are. She also has a book titled Presence: Bringing your boldest self to your biggest challenges.
When you walk, don't rush and imagine you are walking on a tightrope. This automatically swishes your hips from side to side and gives you a sexy sashay.
There are lots of other ways you can give off a sexy aura and be a sex kitten. Think 'I've got it, you want it and I'll decide if you can have it'.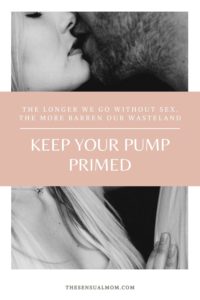 Sexual Habits
Ooohhh… now we are getting to the juicy part (pun totally intended)! The longer we go without thinking of sex, the more barren our wasteland.
These sexual habits will reignite your sexuality and if you keep it up, you will keep your sex drive alive and vrooming. There is nothing like regular satisfying sex to keep us feeling sexually confident.
Flirt with abandon
Be a tease with your partner. It can be physical or just suggestive hints. There is no need to throw yourself in the deep end. You can keep it playful- pinch his butt or give his shoulders a quick rub when you pass him. You can even do dirty texting, hinting at what awaits him at home.
Pretend you just started dating. Be excited about seeing him. Make the first move. You will charge your sexual power and he will feel flattered too.
Surround yourself with 'luxury'
Please all your senses – visual, smell, hearing, taste and touch. Use soft bedsheets. Light scented candles. Have latin music (or your sensual music of choice) playing in background. You get the idea.
Luxury doesn't have to be expensive. When you surround yourself with beautiful things you love, you will feel sensual and sexy.
Practise good communication
Some would argue communication is not sexy. I beg to differ. Good communication opens the gate to experiencing a more satisfying sex life. If you are struggling with regaining your sexual confidence after kids, being able to talk to your husband or partner about it can be a huge relief.
Communicate your needs and desires. Did you know that heterosexual women come less often than men and are more likely to fake it? It's because we don't speak up about our needs and we don't want to disappoint. If you're uncomfortable with certain things, speak up rather than avoid sex.
Being able to talk to your partner about sex is key to a long-lasting satisfying sexual relationship. It is no secret that long-term partners who can talk openly about what turns them on and off have better sex. If you're not sure how to start the conversation, here are some tips from a relationship therapist.
Keep your pump primed
Your bedroom should be a kid-free zone where the both of you go to do adult things, like have sex.
Whether you are a visual person or someone who thrives on romantic novels, using erotic material can help turn you on.
Sleeping naked is very erotic, especially if you have silk sheets. Your husband will gladly join you. Just make sure the bedroom door is locked.
Esther Perel is a couples therapist who specializes in reigniting and maintaining sexual satisfaction in long-term relationships. Her book, Mating in Captivity: Unlocking Erotic Intelligence is the best book I have read so far on the topic.
Practise regular self-pleasuring
Many moms might have let this go when they stopped liking their body. But when we give ourselves permission to touch the parts of us that we were avoiding, we will grow familiar with them again and stop thinking of them as 'trouble spots'.
Start exploring again. Use your imagination and fantasize passionately. You will be amazed at the benefits of sexually stimulating yourself regularly.
Make sex a priority, not an afterthought
Make time for quality couple-time. Find out what you need to get in the mood and set the stage for sex. You could prepare wine and chocolates, light scented candles, play romantic music, shower together, and give each other massages.
Use soft touch to stimulate each other. Look into using toys and props to enhance your sexual experience. Lubricants also do an amazing job, not just at lubricating but at heightening your sensitivity.
Most importantly, be present during sex. Show of hands moms who thought about housework while having sex. Also, banish thoughts about your extra love handles, scars and stretch marks. Just be in the moment and enjoy sex as it is happening.
Experiment with sex
Be adventurous and experiment with different positions and places. Lackluster sex can contribute to declining sexual confidence. It's great that you feel you and your husband are one but being too comfortable isn't a good thing. Taking risks with trying something new during sex can be a huge turn on.
The Complete Illustrated Kama Sutra is an awesome book to get new ideas for different positions. There are also different types of sex to try out if you are comfortable, like tantric sex and S&M sex (courtesy of Fifty Shades of Grey).
Wrapping up
To regain lasting sexual confidence, not one that falters when there is a threat, requires some big changes but the only way to start on this journey is by taking one small step at a time.
Sensuality and sexuality is a way of life. Live it and infuse your life with it. You will feel happier and more confident.
If you found this article helpful, share it with your friends so they will be able to start rebuilding their sexual confidence.
Quick links: