This is not a sponsored post but those of you who read my blog regularly know I am a huge fan of Cake Maternity nursing bras. They literally offer a whole range of nursing bras that are comfy and look great.
One of my favorite nursing bras is the Cake Maternity Tutti Frutti Bamboo Nursing Bra. It's a wireless everyday nursing bra with lovely lace trim and contoured cups. I still use it now, months after I weaned off breastfeeding.
Who is the Tutti Frutti Nursing Bra for?
This is one of those nursing bras I would be happy to recommend to almost all moms, at any stage of their breastfeeding journey. There is a regular version and a busty version of the bra that is specially designed for moms with large breasts.
Check it out on Amazon
Who is it not for?
The only women I wouldn't recommend this bra to are new moms. It's a really comfortable bra but new moms need higher level comfort and flexibility in their nursing bras. If you are a new mom, read The best nursing bras for new moms instead.
Key features and benefits
Wire-free but with a broad underbust band for support
Lightly-padded cups – no moving breast pads ever!
Plunge neckline so you can wear low cut tops
Pretty lace trim that is not irritating to skin
Reinforced back panel and racerback design for better support
No slipping bra straps
Memory foam contoured cups for a smooth silhouette
Made of the softest bamboo rayon
OEKO-TEX certified to be free from harmful chemicals
Size range
Petite: 32B – 38E
Busty: 32E – 38H
Band size range: B – H
Cup size range: 32 – 38
Strap style: Racerback design
Check it out on Amazon
My experience with the Tutti Frutti Nursing Bra
I started wearing the Tutti Frutti Bra when I was about 3 months post-partum. The only reason I bought it was because it looked pretty. I almost bought the mocha (pictured above) but in the end decided on the rust nursing bra.
I didn't hold high expectations for it and only expected a 'comfortable enough' nursing bra. Boy was I surprised.
My rust-colored Tutti Frutti nursing bra retained its color even after 1 year of machine washing: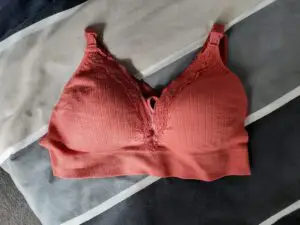 Was the Cake Bamboo Nursing Bra comfortable?
I fell in love with it from my first try! The bra hugged my breasts cosily and with a little bit of strap adjustment, it felt like it was part of my body. That's probably an exaggeration but you get what I mean.
Since then, I've worn it through winter and summer, for work, at home and even for walks. It's retained its comfort and breathability throughout it all.
5 stars for comfort!
Did the nursing bra provide good support?
One big problem with bamboo bras is that they are really stretchy. That's awesome when it comes to comfort but it also means they are not very supportive and don't last as long.
The Tutti Frutti nursing bra was stretchy enough to accomodate my breast fluctuations but retained it's sturdiness throughout.
I have small breasts – 34B that went to 36c when breastfeeding. For me, the nursing bra was plenty supportive, even during my daily walks. There was some breast bounce with jogging but I didn't expect to use it for high impact exercise anyway.
5 stars for support.
Even after 1 year of regular use, the straps and underbust band didn't stretch much:
Was the bra easy to use?
Usually I don't like racerback bras. I much prefer bras you can put on from the front. But this one was pretty easy to pull on. The straps and band didn't get tangled and twisted.
I pull it on, it falls into place, I do up the back hooks, adjust the front a little bit and I'm done.
However, if you have shoulder issues or have difficulty lifting your arms up, I can see that it would be a problem for you to put it on.
The other beef I have with the Tutti Frutti Bra is I couldn't manage the clips with one hand. That's uber important for nursing bras because you always have a baby in one hand. I tried multiple different ways to do it but found I could only clip and unclip with 2 hands.
So 3 out of 5 for ease of use.
Was the Tutti Frutti bra sexy?
My self-esteem plummeted during the first months of delivery. Sleepless nights, flabby tummies and a bad diet all contributed to my self-consciousness about my body.
The Tutti Frutti Bra was a silver lining in my grey cloud of doom. I'm not claiming it was the answer to my woes. Nothing external would ever have been. I'm just saying it helped me feel a little better because I looked good in it.
So many nursing bras are frumpy looking and has way too much material. The Tutti Frutti bra came in beautiful colors and had a pretty lace trim.
The contoured cups and plunge neckline also gave my small breasts a push-up effect and gave me some cleavage.
I would give this bra 50 stars for sexiness if I could.
That's the lace trim on the cups: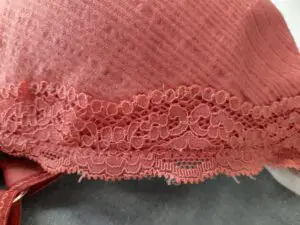 Was it good value-for-money?
The bra looked so good on me that I continued wearing it even after I was done with breastfeeding. I can't say the same for most of my other nursing bras.
It also retained it's sturdiness through multiple machine washes and rough use. The color faded somewhat but the fabric didn't pill and the hooks and clasps stayed put. I didn't even have to adjust the straps since day 1!
It might cost a bit more than budget nursing bras but entirely worth it and great value-for-money.
What was not good about it
As mentioned before, one big issue I had with the bra was that I needed 2 hands to fiddle with the clasps.
The other annoyance was the stretchy side slings. The slings pulled out from the first week. The support was still great when the cups were up but when they were down, the loose side slings provided no breast support whatsoever.
Because of their length, I also had to tuck the side slings in behind the cups. It's a minor thing, but annoying anyway.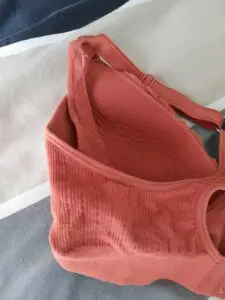 To wrap up
The Cake Maternity Tutti Frutti Bamboo Nursing Bra is an awesome bra and one my absolute favorites. It's flying under the radar but if you don't try it, I think you're missing out on one of the best nursing bras ont he market.
Check it out on Amazon
If you're interested, these are some other bamboo nursing bras I reviewed.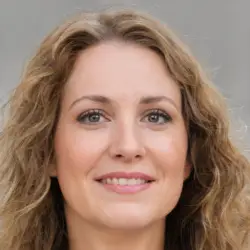 Latest posts by Sharon James
(see all)