You might have noticed that your wardrobe choices narrowed significantly when you started breastfeeding. Suddenly favorite t-shirts and blouses without open fronts were out of the question. I found myself in the same predicament and realized the simple nursing tank was a good solution to my woes.
You should have at least three to four nursing tank tops in your closet. You'll need two to three for home wear and one to two more presentable ones to wear out. If you are planning to breastfeed for more than a few months, having more nursing tank options is well worth it.
How many nursing tanks do you really need?
You don't actually need any nursing tanks if you want to make do with regular clothes. Especially if you had a big pre-pregnancy wardrobe, you can probably find enough shirts, camis and tanks that might just work for breastfeeding and pumping.
However, the same as nursing bras, nursing tanks offer breastfeeding convenience. You might think that's a small thing now but when you're exhausted, sleep-deprived and have a screaming baby in your hands, being able to nurse quickly and easily is a God-send.
Can you do this to your regular tank top?
Check it out on Amazon
Check out my review of the best nursing tanks and camis on Amazon.
How many nursing tanks you need obviously depend on your lifestyle. However, for most moms, I recommend 3 to 4 nursing tanks at the minimum:
Two to three for home wear and sleep.
One to two for work and looking stylish while you're out.
And if you do regular exercise, an extra two to three maternity tanks won't hurt so you can easily change out of sweaty tanks without worrying about doing the laundry on time.
Joymom nursing tanks are light-weight, breezy and smooth-flowing, perfect for post-partum bodies:
Check it out on Amazon
Buying more nursing tanks is worth it because they will be your staple tops throughout breastfeeding. And if you buy a better quality one, you will be able to wear it for years after you stop breastfeeding.
I cycled easily between six nursing tops because I only do laundry 2 to 3 times a week and I work two days a week. But let's go through some factors you need to consider when deciding how many nursing tanks you need:
How often do you do laundry?
If you do a wash every day then there will be no issues with buying only 2 to 3 nursing tanks. One for wearing, one for washing, and one as backup just in case you get puked or peed on by your cute little person.
For many, me included, laundry is a bi-weekly or three times a week chore. If your laundry days are not consistent, an adequate supply of nursing tanks will help you avoid the hassle of constantly worrying about washing your clothes on time.
HOFISH nursing camis comes in packs of 3. They are great value-for-money and come in multiple colors so you can switch it up:
Check it out on Amazon
Do you work out of home?
It's a given that moms working outside of home will need more nursing tanks. You'll definitely want to wear a fresh one to work, and after a day at the office, you'll need to change into a new one.
Also, nursing tanks come in all sorts of designs and styles. You'll probably want a few comfy nursing tanks for home and some stylish ones for work.
A good rule of thumb is to have as many 'work nursing tanks' as you would work a week. For example, if you work 3 days a week, you should have 3 nursing tanks that you can wear to work. This way, you don't have to worry about washing them on time and you don't have to wear the same one every day.
You'll also need 3 to 4 more nursing tanks for home wear so you can get away with not doing the laundry every day (trust me, you won't get to).
If you didn't see this, you wouldn't even know that this Bearsland top is for nursing:
Check it out on Amazon
Do you exercise?
If you are a daily exerciser, you need at least 2-3 additional nursing tanks that you can pull off after a sweat session. However, if your old clothes fit, you can probably get away with wearing a nursing sports bra with your regular exercise tank since you'll be changing out of it before you nurse bub anyway. This way, you can continue wearing your old exercise gear and save some money.
When is your baby due?
I will be the first to admit that I sometimes wore my nursing tank for 2 days in a row. Once in a while, when I haven't stepped foot out of the house and the weather is nice and cold, I give my top a smell and put the same one back on if it smells OK.
But I couldn't have done it in summer. If your baby is due in spring or summer, you'll need to make sure you have plenty of nursing tanks. You'll find yourself changing your tops regularly, sometimes even twice a day.
This Motherhood Maternity Cotton Nursing Tank is an Amazon #1 best-seller every summer.
Check it out on Amazon
Check out more cotton nursing tanks to keep cool this summer.
How often should you change your nursing tank?
As often as you need, momma.
I usually changed my nursing tank once a day after my shower. I just felt so much fresher putting on a clean top.
Often, you'll also find yourself sweaty, covered in yucks, or just needing to change into a more presentable top for going out. This happens on average once or twice a day.
To wrap up
I wish I can be more specific with how many nursing tanks you need. As you can see, it really depends on your budget and lifestyle. You'll need at least 3 to 4 nursing tanks. And if you can afford a bigger maternity wardrobe, especially if you will be nursing for more than a few months, having at least 5 to 6 nursing tops in your closet is well worth it.
I bet you're interested in my review on the best nursing tanks and camis on Amazon.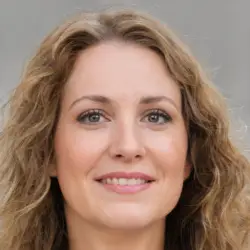 Latest posts by Sharon James
(see all)